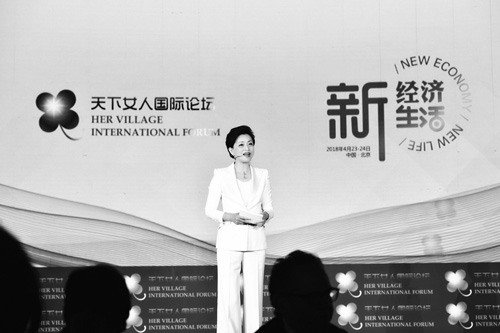 Yang Lan gives a speech at the event. [cnwomen.com.cn]
Yang Lan, the founder of the Her Village International Forum, recently delivered a speech in Beijing to share her suggestions on relevant topics affecting women's development today.
Yang said women can inspire more imagination and creativity if their limitations can be clearly understood. She said there has been a fundamental change in women's roles in modern society.

According to her, the threshold for employment and starting up businesses is low now, because of technological development and education progress, she explained.
Women are becoming the participators and promoters of the new economy. With the rapid development of the service-oriented economy, women are more competitive.
Meanwhile, the digital media has generated more space outside institutionalization and centralization, which can benefit more innovative women.
Women can inspire more creativity though cognitive iteration, which can be helpful to build a more diversified, equal and dynamic society, she said.
"In China, enterprises established by women are relatively small. They only occupying one percent among enterprises whose profit run into the hundreds of millions."
"The proportion of female executives is lower than 25 percent in the workplace. However, the implementation of Universal Two-Child Policy has made more companies openly discriminate against women," Yang warned.
"Women are 128 times more likely to suffer sexual harassment and sexual assault than men, whilst, the number of women who suffer from domestic violence is 289 times higher than men," she added.
"Furthermore, I believe women can have brighter futures, if they shake off the traditional labels that accompany them."
Finally, Yang gave some suggestions. Women should change themselves, whilst improving their self-awareness. They should also try to achieve their dreams with actions and face uncertainty bravely.
She also encouraged young people to uphold lifelong-study attitudes and maintain a sensitivity towards the world.
(Source: paper.cnwomen.com.cn/Translated and edited by Women of China)