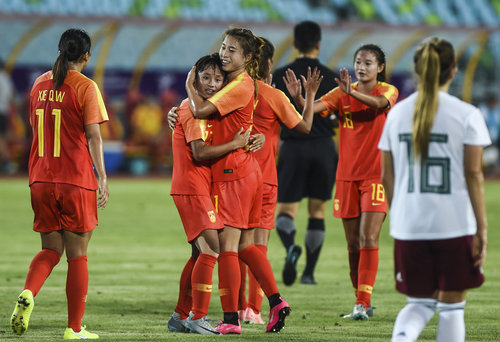 The women's national under-20 soccer team celebrate their 1-0 victory over Mexico in Duyun, Guizhou province, on June 4, 2018. [Photo/Xinhua]
China's presence at the ongoing FIFA World Cup has been noted by many. Other than sponsorships by companies ranging from real estate to milk, bikes and phones, a large number of soccer fans from the country have bought tickets to watch the matches live in Russia.
Many Chinese love the sport even if their national men's team last qualified in 2002 and has yet to score a goal in the World Cup. China may not have a soccer legacy but it has history: a forerunner of the modern game, cuju, is said to have been played in ancient China.
There is also speculation that China will bid to host the World Cup by the end of the next decade or so. The government wants to make the country a soccer power by 2050.
China ranked 75th on FIFA's list, as of June 7, and was ahead of Canada (79), India (97), Qatar (host of the next World Cup; at 98) and Singapore (169), among others. Sometimes, hosting the World Cup is the surest way to qualify.
Russia, which was 70th on the same list, has made good on the opportunity to enter the global championship by hosting it this year.
But China seems to have done much better in women's soccer. Its FIFA ranking was 17, as of June 22, higher compared even to men's soccer heavyweights Portugal and Argentina.
While skeptics are likely to argue that men's soccer is a totally different game, given its competitiveness, I feel it is worth the effort to develop women's soccer in China (for that matter in any other country). Few know that the first FIFA Women's World Cup was held in China in 1991.
More than half of the Chinese visitors to Russia for the 2018 World Cup are women, according to a local news site. A case of cheerleading what is still considered a "man's sport". By another online account, Chinese female figures are seen playing cuju in some Han Dynasty (206 BC-220) frescoes.
I have noticed mothers-often in larger numbers than fathers-encouraging their sons from the sidelines during children's tournaments in Beijing. But the fields usually have a lot more boys than girls, possibly because girls are more likely to be sent to learn to swim or ballet.
The gender bias in soccer goes beyond patriarchal societies.
In Britain, for instance, Eni Aluko and Alex Scott, both of whom have played for the England women's national team, faced initial resistance on social media when they started commentating on the ongoing World Cup for two TV channels. In another episode, a former male soccer player apologized after describing female commentary as high-pitched.
Such reactions show how superficial the acceptance of women in world soccer can be.
The FIFA Women's World Cup will be held in France next year.
I hope attempts are made to raise the event's profile. Colombian singer Shakira led an African band to sing the theme song for the championship in South Africa in 2010. But then, it was the men's World Cup, watched by millions live and on television.
Satarupa Bhattacharjya from China Daily contributed to this story.
(Source: China Daily)