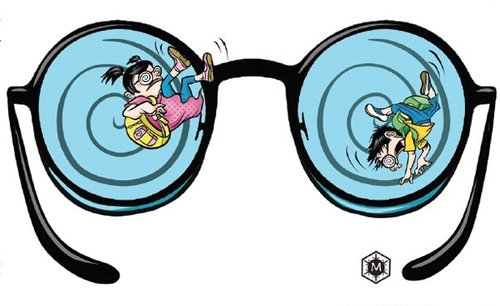 Being enslaved by electronic devices is ruining kids' eyesight. [China Daily/Ma Xuejing]
The latest data show that 58.6 percent of all primary and secondary school pupils in Beijing have poor eyesight and have to wear glasses. Gmw.cn comments:
In secondary schools, primary schools, even kindergartens, it is already common to see children wearing glasses. Data from medical institutions even show that one-third of all residents older than 5 in China are nearsighted, while 90 percent of all college students are nearsighted.
Many believe that myopia is not a problem. However, those wearing glasses cannot live a normal life without them. Worse, as people age, nearsightedness might cause multiple eye problems.
In order to solve that problem, efforts from schools, the education authorities, and families are needed. First, schools should teach children to sit straight and play outdoors more, which is essential for their health. They should also raise awareness of the importance of eye health. Children are unaware of the necessity of having a pair of good, healthy eyes, and when they do realize it is already too late.
The education authorities need to invest more in promoting children's eye health. For example, the light bulbs in classrooms of primary and secondary schools should be improved so that children can read and write with enough light. The authorities should also act to reduce the amount of homework children have to do so it does not strain their eyesight.
Besides, more local education departments should require the teachers in their regions to give assignments on paper rather than electronic devices, which will help to protect children's eyes.
For parents, the most important thing is to properly guide their children not to use electronic devices too much. That requires the parents to kick their own addictions to smartphones first. When parents are trapped in smartphones every day, children easily copy their examples and play with electronic devices, which harms their eyes.
(Source: China Daily)