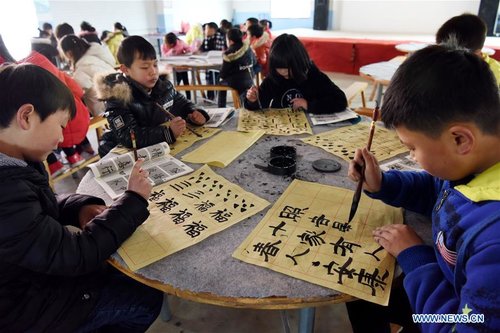 Students learn brush calligraphy at a charity school in Hangshan village, Taihe township, Nanfeng county, East China's Jiangxi province, Feb 5, 2018. [Photo/Xinhua]
At a recent calligraphy training program in Beijing, scholars and experts expressed their concerns about the declining calligraphy abilities of pupils. Eastday.com comments:
The poor Chinese character writing ability of primary and middle school students has become a "collective anxiety". The problem, of course, has much to do with the popularity of computers, because people rely more on typing, not writing. One survey after another has shown that people's ability to write calligraphy is much weaker than that of past generations. In one reported case, a college graduate reportedly had 24 errors and mistakes in 400 handwritten characters.
According to Su Shishu, president of the China Calligraphers' Association, we now face a "calligraphy crisis" in which people's ability to write characters by hand is declining.
A qwerty keyboard is undoubtedly more convenient. However, that should not be an excuse for ignoring calligraphy. As a kind of unique art that suits our writing system, calligraphy is an essential part of traditional Chinese culture. When people forget how to write, it might affect our way of thinking, even threaten our traditional culture. Many people who are accustomed to using computers have already developed a "phobia" about writing.
Because of this, the Ministry of Education and the national language working commission have for six successive years published annual reports about the Chinese language. And in February, the two departments said that ample attention must be paid to cultivating the calligraphy skills of children.
The more progress society makes, the more valuable traditional culture will become. Calligraphy is an indispensable part of our traditional culture. We hope the whole of society will echo the call of the experts and help to protect calligraphy together.
Children's ability to write characters should be cultivated from an early age.
(Source: China Daily)