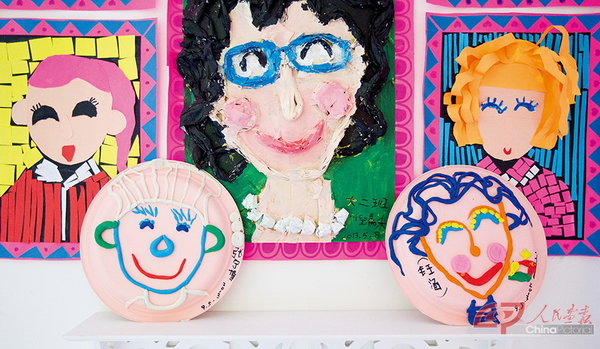 Family portraits made by children from putty [rmhb.com]
Children are the most important resource for the sustainable development of Chinese society, and childhood is a critical period for people's development, commentators have recently suggested.
Respecting and caring for children have already become common social values. All countries, societies, and families contribute to providing the necessary opportunities and environment to guarantee children's survival, development and right to be protected.
Meanwhile, everyone should meet children's development needs as best as they can to make full use of children's potentials, and to lay a solid foundation for their future.
Currently, there are about 271 million children in China, occupying 19.7 percent of the total population.
Under the current period of social and economic transformation, child development faces new conditions, challenge and problems, just as every parent wants to provide their children with the best possible conditions.
However, with the increasing trend of globalization and competition, all kinds of books, products, and programs have declared that they can help parents cultivate intelligent and healthy children, which often serve to puzzle parents, also increasing their stress to raise their children as a successful person.
According to statistics from the All-China Women's Federation, in 2016, 30.3 percent of parents did not know what their children thought, and 47.4 percent lacked sufficient skills to educate them.
Accordingly, great attention should be paid to family education and parents' qualities to help them improve relevant behaviors, which coincides with the principle of caring for children the proper way, as put forward by people over numerous generations.
Many psychologists and educators have reached a consensus that parenting styles have a direct and significant influence on children's psychological qualities and interpersonal relationships.
Positive parenting ways can be helpful to allow youngsters to form healthy personalities and relationships.
However, deciding how to cultivate children positively has become a universal puzzle for people all around the world.
Firstly, we should correctly understand and grasp the two main factors hindering parents' positive parenting: excessive anxiety and superficial learning.
Excessive anxiety refers to parents who are worried too much about the short-term effects and long-term consequences of their daily upbringing on their children.
For example, a mother said: "If my son cannot learn reading until three years old, he can't enter a competitive kindergarten, which means he won't be admitted to good schools; his future will be bleak." However, at that time, her son was less than one.
Excess anxiety can easily make parents to pay too much attention to children's intelligence development and test scores, whilst superficial learning can contribute to rigid thoughts, which cannot integrate scientific knowledge into real life.
So, society should pay more attention to children's real needs and, wise parents should educate their children according to their personalities, interests and learning styles, so they can fully enjoy the fun of interactions.
(Source: rmhb.com.cn/Translated and edited by Women of China)