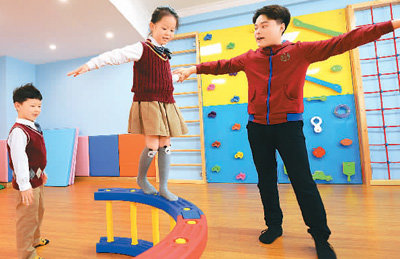 A preschool teacher plays with children at a kindergarten. [People.cn/Zhang Tao]
A Chinese singer recently made a statement at a talent show that men should be masculine rather than feminine, triggering heated discussion across the country over whether a womanly temperament in men should be greeted or not.
According to traditional Chinese standards of beauty and gender features, women should be feminine whilst men should be masculine.
But in recent years, many young actors wearing costumes and choosing hair styles with woman-like flavor have appeared in many TV shows, adding to the trend of sharp increases in effeminate men, have worried some members of the public.
One report was made to investigate the public's attitudes toward feminine styles.
Some 28 percent of respondents said the occurrence of effeminate men has become a common social phenomenon.
"The main reason why more men perform like women is that actors who speak and act with effeminate gestures provide a model for men, especially teenagers, to imitate," said a staff in a construction company.
"Lipsticks and eyebrow pencils are favored by men and many of them have a weak character," he added.
An elementary school teacher was worried that some schoolboys dressed like girls and they cannot be brave and responsible like "real men" when encountering difficulties.
Zhang Haibo, director of the Research Center of Children's Media Literacy Education of China National Youth Palace Association, agreed with the opinion that some current entertainment programs and films mislead children and society to have a misunderstanding or a stereotype over gender.
Some 25 percent of those interviewed disagreed with the opinion.
A postgraduate student surnamed Chen said he is conscious of his skin and he prefers to have a fashionable outfit and hairstyle, but he thinks fashion that can reflect his individuality, rather than a sign representing a feminine social atmosphere.
Besides, a scholar said people should not be limited by the tradition, instead, they should have various chooses to express themselves.
Some 40 percent took a neutral attitude to effeminate men; they thought that there is nothing wrong with feminization, masculinization or gender-neutral style as long as it remains reasonable.
Deng Xiquan, director of the Youth Research Institute of China Youth and Children Research Center, expressed his opinions on the discussion.
"Teenagers' infirmity is relevant to entertainers' feminine gestures in TV shows, but their relations are complicated and it cannot be explained easily and unilaterally, let alone exaggerate the truth," Deng said.
"Feminized culture is a kind of popular youth culture and an attempt for youth to find a different cultural style from the previous one. We should analyze it from two aspects," Deng added.
"On the surface, the feminine style is a temporary result of a star-making strategy and it is a part of the varied culture which still plays a subordinate role in society. From an overall perspective, body shape, physique, health, sense of responsibility and the ability of contemporary youth are constantly improving."
The report finds there are three main reasons why the feminine style is popular among men.
First, it is a reflection of social structure's changes due to the rapidly developed economy.
Deng thought that where the most developed countries have a strong economy, white-collared workers and intellectuals have an advantage, therefore the feminine style is more popular than before.
At the same time, the culture of South Korean stars, Japanese stars and the animation industry have greatly influenced Chinese entertainment market and many teenagers imitate the feminine style from them.
Second, with the rapid social development, modern society accompanying with rational interpersonal interaction and fast-paced life put forward new requirements for traditional gender roles.
The feminine style is favorable for interpersonal interactions, for which many teenagers are likely to imitate the style, and the promotion of women's social status speeds up this trend, said Deng.
Third, the lack of proper instruction in family and school education is one of the important causes for the formation of feminine style.
"Under great academic pressure, children have no enough time to participate physical in exercises, therefore they develop a weak character," said Zhang Yongjun, a marriage and family therapist with 10 years of experience.
When it comes to the social influence of feminine style, experts expressed their opinions separately.
According to Deng, the new phenomenon will last for a long period of time, but as a kind of youth culture, it will be replaced by something new.
He said people need not worry too much because feminine style as it is now existing in limited fields and it is more a kind of cultural symbol and aesthetic taste rather a mainstream culture.
Many people accept the new culture, but that does not mean they will act like effeminate men, Deng explained.
Several scholars thought that both male power and feminine beauty have their positive values. A colorful society should allow individuals to have their own right to appreciate various gender features.
Some also advise kindergartens to encourage boys to play with dolls and girls to play with toy cars and even support them to play together so as to eliminate gender segregation.
"A society needs personality and freedom, and it cannot abandon traditional culture as well. The male power and feminine beauty are both outstanding traditional Chinese culture so we must protect and develop it," said Zhang Yongjun.
"It is important to cultivate boys' male power and family and schools should pay more attention to popularize heroic deeds and outstanding inventions to inspire children to be brave and responsible," he added.
Furthermore, he emphasized that media should inform people of their duties, both for themselves and their family and nation, so as to encourage them to contribute positive energy to society.
Zhang Haibo also thought it would be worrying if feminine style tends to be a mainstream culture. "It will mislead teenagers' esthetic sense and urge them make wrong decisions."
He suggested that parents should guide children to face the popular culture by adpoting mainstream values, and schools and family should carry out targeted gender education at the same time.
(Source: People.com.cn/Translated and edited by Women of China)