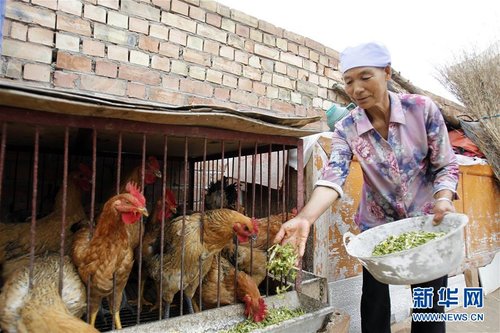 A villager in Jingxing village, Lingwu city, Northwest China's Ningxia Hui autonomous region, feeds chickens distributed by local government, Aug 28, 2017. [Xinhua]
How the targeted poverty alleviation efforts fare is key to the goal of building the country into a better-off society by the year 2020. This is a challenging task as more than 30 million poverty-stricken rural villagers still need to be lifted out of poverty in two years.
That explains why the Central Commission for Discipline Inspection and State Supervision Commission announced on Tuesday that a new round of inspections will focus on the poverty alleviation work. Covering poverty alleviation work in 13 provinces, as well as 11 central government departments and two State-owned agricultural banks, the inspections will seek to uncover the problems that hamper the poverty alleviation efforts from achieving their goal.
Discipline inspection departments and procuratorates nationwide have already uncovered more than 45,000 cases involving poverty alleviation work in the first six months of this year. These include corruption, bureaucracy and bad working style, which have not only compromised the results of the poverty alleviation endeavors but also cast a shadow over the prospects for the work.
Some local officials have been found to have withheld the money that should have been given to villagers in abject poverty for their own use and some officials only did some superficial work rather than doing what they were supposed to. There is also too much red tape and bureaucracy that prevents policies from being carried out effectively.
It should go without saying that such inspections by a special team of the Central Party Committee are timely. The inspectors need to dig deep into the relevant central government departments and provincial governments to find out where the real problems lie and whether those officials in charge of the poverty alleviation work have dedicated themselves to the task they are entrusted with. Those who have made serious mistakes and those who have failed to do a good job need to be held accountable.
Previous inspections by such teams have shown their worth as quite a number of corrupt elements have been rooted out, and they have indeed helped to improve the working style of government departments and institutions.
If the goal of eliminating poverty is to be achieved in two years, it is essential that efforts to win the battle against poverty are not undermined by a lack of resolve or through impropriety or the fiduciary risks of misused or misappropriated funds. Therefore this round of inspections will help ensure victory in the nation's critical battle against poverty.
(Source: China Daily)