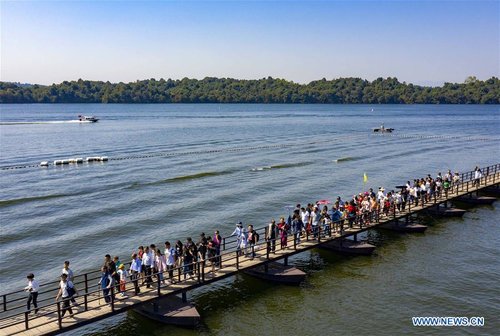 Aerial photo shows tourists visiting the Fairy Lake in Xinyu City, East China's Jiangxi province, Oct. 3, 2018, the third day of the week-long National Day holiday. [Xinhua]
October 1 is National Day in China, and the government made the seven days from October 1 to 7 a National Day holiday, or Golden Week, 20 years ago in a bid to boost consumption. Beijing News comments:
The Golden Week over the past 20 years has proved to be a prism with which to gain insight into the changes of the Chinese people's consumption habits and structure. The sales of high-grade goods and services during the holiday have increased markedly over the past two decades.
During the holiday last year, Chinese nationals made a total of 663 million trips, up 11.96 percent year-on-year, generating about 550 billion yuan ($80 billion) of tourism revenue, an increase of 13.97 percent from the same period in 2016. It is estimated that more than 700 million trips will be made this year and the revenue from tourism will reach 600 billion yuan.
The holiday consumption's spillover effects are palpable. Statistics show that in the first three days of last week, the number of mobile payments in the Bicester outlet village near Oxford, which is popular shopping destination for Chinese tourists visiting the United Kingdom, increased 90-fold year-on-year. Likewise, in the Dotonbori shopping zone in Osaka, Japan, it grew 70 times year-on-year.
Chinese people are also more willing to spend money enhancing their travel experiences, as travel agency statistics show, as they reveal that tailor-made travel products and services have become increasingly popular.
And data from China's commerce authorities indicates that Chinese tourists spent $200 billion overseas last year, with Chinese consumers attaching more importance to the quality, designs and brands of commodities than prices. Twenty years ago, people mainly focused on satisfying their basic needs, now they look for the comforts of life and high-quality experiences.
Chinese people's consumption power has steadily improved, and the upgrading of domestic consumption will fuel economic growth as a reliable engine, and prompt the domestic manufacturing industries to upgrade their technology and services.
Moreover, about half of China's nearly 1.4 billion population is still a rural population whose consumption potential has yet to be tapped.
(Source: China Daily)