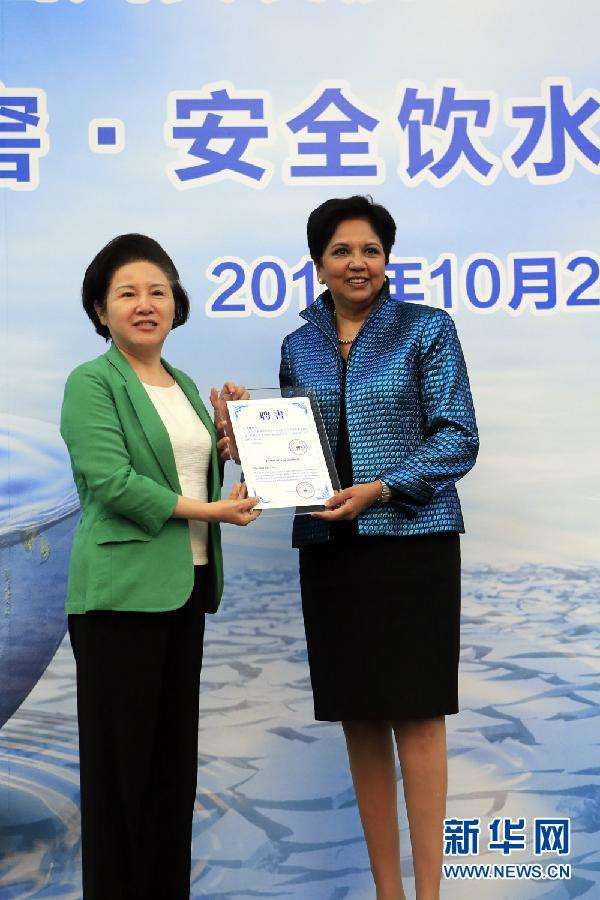 Indra Krishnamurthy Nooyi (R) [Xinhua]
The resignation of a number of female senior executives of listed international companies has attracted much attention recently and inspired a series of related investigations into the phenomenon.
Last month, Indra Krishnamurthy Nooyi, the chairwoman and CEO of PepsiCo, announced her stepping down. In addition, Denise Morrison and Margo Georgiadis of Campbell Soup, Meg Whitman of Hewlett Packard and Irene Rosenfeld of Mondelēz International have all resigned this year.
Since January, a total of 13 female CEOs have left their posts, leaving the proportion of female executives dropping to 4.6 percent. Of those still in service, four said they were about to retire; four left their post after the company was acquired; two were seeking new positions, and two were replaced at the request of investors.
What are the causes of such phenomenon?
From the perspective of work and pay, businesswomen start at the same level as men. However, as positions rise, women's payment has not increased as greatly as that of men, and only 22 percent of senior vice-presidents are women.
According to the Women in the Workplace yearly study conducted by LeanIn.Org and McKinsey & Company, only 21 percent of positions ascribed to women are related to revenue.
Those employees whose jobs are linked to revenue are more likely to be promoted into the executive team, say experts.
The study also reveals that women are 18 percent less likely to be promoted as managers than men. Moreover, the higher the position is, the higher proportion of white males and lower proportion of white women.
Andromachi Athanasopoulou, a professor of organizational behavior at Oxford University, said, "Most female senior executives are appointed to such positions when the company is in crisis."
This phenomenon is also known as the "glass cliff" among women in leadership roles. As executives in the corporate world or as political election candidates, women are more likely than men to be assigned leadership roles during periods of crisis or downturn, when the chance of failure is highest.
For example, Marissa Mayer was appointed president and CEO of the web service provider Yahoo in 2012, which was purchased by Verizon at 4.8 billion dollars. Under the leadership of Mayer, Yahoo eventually split and faded out from the market, but its share price had risen 180 percent since she took office in 2012.
George McDermott, a professor at Georgetown University, the U.S., still highly commended Mayer's capability, despite her failure to change the situation, since the task was almost impossible.
McDermott also elaborated his personal view on glass cliff by stating that: When the company is in crisis, the board seems to believe that women's contribution is more conducive to team building, because they are more adept at listening and socializing. However, most of them will be eventually fired due to poor performance, or an irretrievable business model. Then, the company will recruit some so-called tough guys to take over the position.
In addition to work, most companies are not able to create a corporate culture where everyone can enjoy work-life balance, such as reducing overtime hours or having more flexible work options.
When facing the choices of work or life, women tend to choose parental leave and part-time jobs, or positions with minor responsibilities. Though men also encounter such choices, they are not concerned because childrearing is borne by women for most of the time.
In a recent analysis of the work capacity of 2,600 executives, men and women were found to be at the same level in many areas of assessment, including interpersonal socializing, analytical and managerial skills. However, women are much less likely to become CEOs.
One of the reasons is that we subconsciously believe that men are supposed to be leaders and they have qualities of leaders; and we tend to conjecture about women who are successful in their careers and assume that for most of the time they are only suitable for such position as assistant.
The investigation conducted by Lean In and McKinsey and Company also reveals that in addition to promotion, women are also less helped on career counseling and funding in their careers; parenting has a far greater impact on women's career development than men; and, there is growing sexual harassment in the workplace.
Indra Krishnamurthy Nooyi said, "The female CEO may be one of the most difficult and lonely jobs in the world, where you will be treated differently and be bound by different standards. This is what we are going through as female CEOs, but I sincerely hope that the day will come soon when this group has grown to be stronger and more powerful; and we will simply be considered corporate leaders, rather than female CEOs."
(Source: Wsic.ac.cn/ Translated and edited by Women of China)