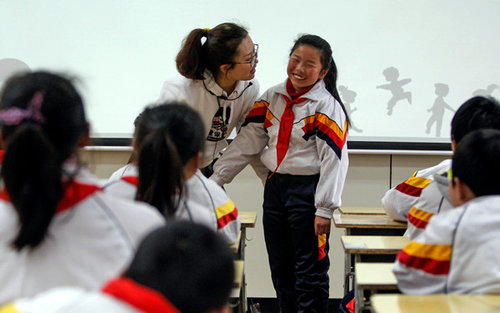 A teacher at a school in Xuzhou, Jiangsu province, shows students how to recognize inappropriate behavior. [Xinhua/Li Jing]
With the development of technology, the protection of children's rights and interests has become an increasingly complicated and pressing challenge. For instance, many criminal acts targeting at the children now involve the internet or social media, which is why the Supreme People's Procuratorate has clarified that indecent acts with children involving no physical contact are still crimes. Beijing Youth Daily comments on Monday:
The top procuratorate made the clarification using the example of a case in which a man fabricated a fake identity to communicate with a 13-year-old online and then used threats to get the girl to send her naked photos to him via the online chat software that they were using.
The clarification means the relevant clauses of the Criminal Law now apply to unlawful acts against children conducted via the internet.
The network environment is in some ways more dangerous than the real world for children. Many juveniles are regular network users and smartphone addicts, and although they might be adept at using social media, their ability to guard against potential harms and to distinguish between right and wrong is still weaker than adults, which makes them easy prey for sexual predators.
Many victims are not aware that what they are doing breaks the law or they are too frightened to report it to their guardians. So many such cases happen without anyone but the perpetrators and the victims knowing, which causes mental harm to the children.
The law seeks to give minors powerful and comprehensive protection, and clarifying that noncontact indecent acts involving minors are still a criminal offense further strengthens the protection of children's rights and interests.
The online communication and social media platform companies and internet administrative departments are obliged to strengthen their screening and supervision over online activities to prevent and spot and stop online illegal acts against children.
(Source: China Daily)