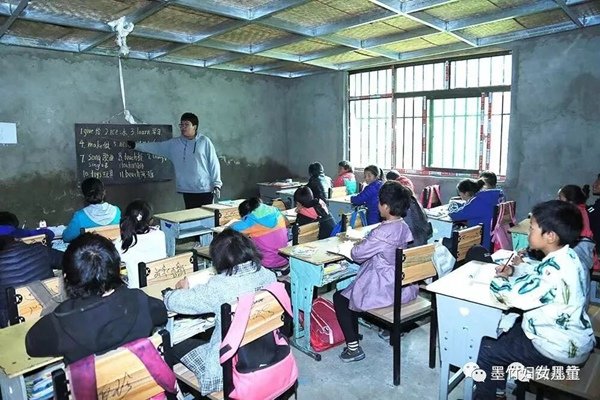 A volunteer teaches children English. [Women of China]
Danzengzhuomei, a Tibet-born university student who returned to her hometown after graduating from university, set up a voluntary team for providing education service in Maizhokunggar County in Lhasa, capital of the Southwest China's Tibetan Autonomous Region.
In 2018, Danzengzhuomei mobilized Tibet-born university students to set up a voluntary team for teaching students in remote villages and towns in Maizhokunggar County. So far, she and her team members have tutored more than 400 students in Longzhugang and Miluo villages.
"Our volunteers, who mostly come from Ngari, Nyingchi, Lhoka and Shigatse in Tibet, are studying at Jilin Normal University, Zhongnan University of Economics and Law or other famous universities around China," she said.
"We want to do some things for our hometowns, even though they are still in tough conditions. We go to the remote and tough areas where children need us most," she added.
Zhaxue Township is the most remote area in Maizhokunggar County. The members of the voluntary team erected four tents as the classrooms where they taught Chinese, Mathematics, English, Tibetan language and other basic courses to more than 100 children.
Team members have raised funds for their second round of voluntary services, set up three classrooms and purchased tables and chairs so the children would have a comfortable environment for learning.
Their voluntary education service is gradually covering larger areas and offering richer teaching content with longer time, giving children in remote rural areas the opportunity to receive more education.
(Source: China Women's News/Translated and edited by Women of China)