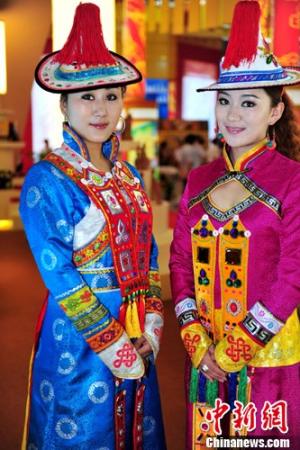 Yong Yugur women present their ethnic costumes at the Eighth International Cultural Industry Fair in Shenzhen, south China's Guangdong Province, on May 18, 2012. [chinanews.com/Chen Wen]
Ke Cuiling, a Yugur woman close to sixty, has dedicated her life to preserving Yugur ethnic costumes over the past three decades.

"Each ethnic group expresses their cultural characteristics through their costumes and languages. For the Yugur ethnic group, with a population of some 13,000, we have to make a greater effort in preserving our cultural," said Ke.

The Yugur people, one of China's 56 officially recognized nationalities, live primarily in Sunan Yugur Autonomous County of northwest China's Gansu Province. They have a rich literary tradition handed down orally, and are skilled at plastic arts and weaving beautiful patterns.

"In the 1990s, people would be made fun of if they wore Yugur ethnic costumes in streets while now that no longer happens. People are proud to have on their beautiful ethnic costumes to attend activities," said Ke who runs a clothing shop in the county.

The Yugur costume has a unique style. Yugur men usually wear a high-collared long gown, a red-blue waistband with a sword, flint and small Buddha, and high boots. The women also wear a high-collared long gown, generally in green or blue, with a red, green and blue belt, overlain with a bright waistcoat. In the winter, men and women wear a hat made of fox-skin; in summer and autumn they wear a flat, embroidered white felt hat with a cylindrical top.

"As a nomadic group, the Yugur people carry their precious things on their persons. For example, they often have red corals, turquoise, silver jewelry, agate stones and color beads as head ornaments," she said.

When she was young, Ke thought her knowledge of the profound Yugur culture was insufficient and so decided to attend college. She took and re-took the national college entrance examination for eight years and was eventually accepted as an art major at Northwest University for Nationalities in Lanzhou, capital of Gansu Province.

After graduating in 1984, she began working for the Sunan Cultural Center. From then on, she carefully honed her knowledge of endangered Yugur craftsmanship and was obsessed with exploring, sorting out and collecting Yugur cultural relics, with about 1,000 relics to date.

In 1999, the organizing committee of the Beijing-based China Millennium Monument collected totems of China's 56 ethnic groups for the symbolic and commemorative building.

Hearing the news, Ke immediately thought of the lovely deer who roam the pastures of her hometown as well as the sacred deer of Yugur legends. Accordingly, she created an image of a deer with a pair of wings, a pearl on its head and a lotus in its mouth, jumping into the air. In 2000, the holy deer was permanently engraved on the China Millennium Monument.

Over the past few years, Ke has fought for her dream of preserving the Yugur culture. In need of a substantial capital, she worked as a design manager in a folk art company after retiring. In 2012, she started her own Yugur cultural company and clothing shop in the hope of using what she earned, with the help of social financial assistance, to develop a museum.

With the development of society, some traditional handicrafts are in danger of dying out. "It takes several months and nearly 100 procedures to make a traditional Yugur outfit. Nowadays, fewer and fewer people can master the craftsmanship," Ke said.

When she was young, Ke learned the handicraft under her mother. When she grew up, she consulted elderly Yugur people and took down what they said. Back at home, she studied her notes over and over again.

In recent years, Ke's works, representing the Yugur folk culture, have been invited to be displayed in south China's Taiwan as well as in various national and provincial exhibitions. Her works have also won awards, such as the Mountain Flower Award and Outstanding Chinese Folk Handicraft Award.

Under Ke's influence, her daughter-in-law, Chudro Lhamo, who graduated from Guilin University of Technology in south China's Guangxi Zhuang Autonomous Region, also began making Yugur costumes shortly after she gave birth to her son.

"I had planned to take the civil service exam and get a government job. Later, I thought preserving Yugur culture was pretty good," said Chudro.

In early 2013, Ke was named as the national inheritor of the Yugur ethnic costume craft. To date, she has taught more than 100 students.

"My interest has developed into a kind of responsibility," said Ke. "The original method of making Yugur costumes was behind the times. Nowadays, the materials and the craftsmanship have undergone changes. It's just good for young people to like fashionable clothes with ethnic characteristics," she added.

"My biggest wish is to build a Yugur cultural heritage base so that people can experience our ethnic culture," she said.