File photo of Huang Wenxiu(R), a young college graduate who devoted her life to poverty relief in a village in South China's Guangxi Zhuang Autonomous Region. [China Women's News]
A young college graduate who devoted her life to poverty relief in the remote prefecture of Baise in South China's Guangxi Zhuang Autonomous Region was among the nine dead in the latest rainstorm that hit Lingyun County in Baise.
The 30-year-old Party chief of Baini village, Xinhua Town, Leye County, was trapped in a mountain area while on her way back to the village on June 16 after visiting her sick father in another county on the weekend.
Huang graduated from Beijing Normal University (BNU) with a master's degree and she became an official at the publicity department of the Communist Party Committee of Baise City.
One year ago, she was then sent to Baini Village as the first secretaryof the Party committee of the village to help with poverty relief. Since then, she had devoted herself to her career, working day and night on matters to alleviate poverty and improve villagers' welfare.
Her death triggered mourning among local people and BNU's alumni.
Huang was once asked why she came back to work in such a remote village. She said Baise was her hometown, an old revolutionary base area, a border land, an area inhabited by minority groups, a poverty-stricken mountainous region and a reservoir relocation site, as well as one of the main battlefields in the country's efforts to lift everyone out of poverty.
"Turning from the role of a student to a civil servant enabled me to realize that not only should I do my job wholeheartedly, but I should also be responsible for my words and deeds," Huang made the remarks when she started to work in her hometown.
When she arrived at Baini Village, she became the only female first secretary in Xinhua Town. All she had in her dormitory was a bed, a humble kitchen, an induction cooker, a rice cooker and some tableware.
A total of 883 registered poverty-stricken people in 195 households in the village were scattered on different hills. However, Huang visited all of them in the past year.
This year's March 26 marked her first anniversary of her being the first secretary of the Party committee of Baini Village. The mileage on her dashboard showed that she traveled 25,000 km in the position.
Given her efforts, 88 households, involving 417 people of the village shook off poverty and its infrastructural facilities were improved. A 1.5-kilometer road was hardened and four cisterns were built. The collective's bank account held 63,800 yuan (US $9,288).
"We talked about poverty relief a week ago," said Bai Yong, a teacher at BNU, adding that Huang felt depressed for failing to shake off poverty of the whole village at that time.
According to Yi Dongdong, Huang's classmate, Huang was expansive, competent and passionate.
Liu Juanjuan, another friend of Huang, spoke highly of her, saying Huang was a role model for them.
In addition to the loss of the daughter, the family has to face a hopeless situation — Huang's father is suffering from liver cancer. The faculty and students at BNU are raising money for the family, hoping to help pull them out of difficulties.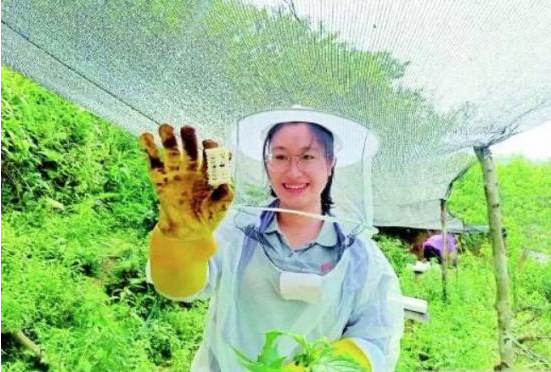 File photo of Huang Wenxiu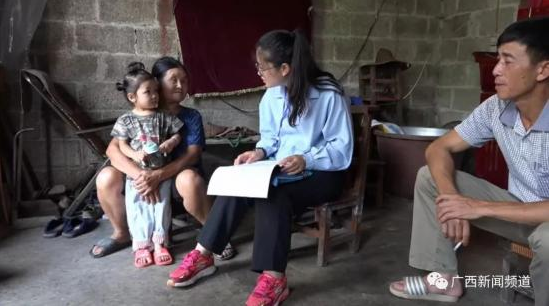 File photo: Huang Wenxiu (C) visits a family in the village. [Official WeChat account of Guangxi News]
(Source: China Women's News/Translated and edited by Women of China)