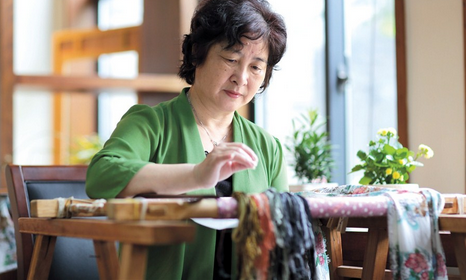 Embroidery master Zhao Hongyu at work [shanghaidaily.com]
As Zhao Hongyu pulls out a strand of silk of around 1mm in diameter and splits into half, quarter ... and even more for her embroidery work, people stare in amazement.
"Although strong, silk is delicate to work with. So it is vital to have trimmed fingernails to avoid catching and tearing," Zhao, 59, tells her admiring audience.
Master of fine embroidery, Zhao is presenting her works at the newly renovated Dashijie, or The Great World, which also happens to be one of Shanghai's oldest indoor amusement centers.
The Great World, which reopened at the end of March after a decade of refurbishing, is now a dedicated venue for the protection and promotion of China's intangible cultural heritages.
Wuxi fine embroidery, or xixiu in Chinese, is a branch of Su embroidery from Suzhou, or suxiu, and surrounding areas of Jiangsu Province dating back some 2,500 years ago.
Renowned for its subtle and refined needlework, Wuxi embroidery is praised for its use of the finest threads, balanced compositions, dense stitching and smooth finish.
The double-sided fine work of art traditionally features birds and flowers, scenes from nature and ancient Chinese paintings. A single image can be viewed from either sides, or different images on either side.
Fine and neat, it is best known for its delicacy in the arrangements of a variety of objects and the transition of more than a hundred layers of colors within a piece of work.
Take Zhao's representative work "The Silk Road" for example. Stitched on a near-transparent silk cloth that is 70cm in length and 46cm in width, it captures 24 merchants marching across the Taklamakan Desert with 21 fully loaded camels, five donkeys, four horses, three dogs and more.
The primary stitch is "neat stitch," which means stitching in smooth lines of thread of the same length, while "gradient stitch" is used for flowing garments, and "layer stitch" is for the highly detailed facial expressions and furs on the hat.
"Prodding stitch," on the other hand, is freer and is used to achieve a greater photorealism in goods stock. Similarly, "thickening stitch" mimics the animal tails and rolling clouds.
"The artist must first plan the design and stitching techniques thoroughly before beginning a piece. Instead of tying knots, stitches over the ends of the threads are woven into the needlework," Zhao says. "If well done, the result is immaculate even under the magnifier. It can be appreciated from afar as well as up-close."
As an apprentice in embroidery at Wuxi's Chinese Embroidery Factory in the 1970s, Zhao's creativity has grown from 10 basic stitches to more than 80 now. She has made breakthroughs in traditional stitches, making her works vivid and attractive.
"The use of varying thread length and thickness, and the choice of colors during the transitions, show the aesthetic sights of each embroiderer.
"Every piece of work is different, even it is from the same person. That's the unique art value of handcrafted works," Zhao tells Shanghai Daily.
Having been in the trade for more than 40 years, Zhao says she has witnessed the growth of the embroidery industry in Wuxi over the past decades. At its peak, there were an estimated 100,000 embroiderers in the 1980s when hand-made embroidery work was one of the top exported commodities. But in the late 1990s, skilled labors were no longer needed as machines took over embroidery and design work.
"Traditional silk embroidery has become a dying art in the new machine age. It was a reality that many people from my generation are struggling with," says Zhao. "I would have left for other jobs too, had it not been for the recent intangible cultural heritage programs supported by the government."
Zhao is now a researcher at the Wuxi Arts & Crafts Research Institute. She has a workshop at the foot of Huishan Mountain in west Wuxi.
In addition to coaching the seven apprentices at the workshop, she also gives lectures at the Art Institution of Nanjing University in hope of inspiring the younger generation in the art.
"The varied skills and stitches endow Wuxi embroidery with unique art value. As an intangible cultural heritage, the stitches are a living expression of ideals, as well as an elegant and sophisticated way of life passed down from our ancestors," Zhao says.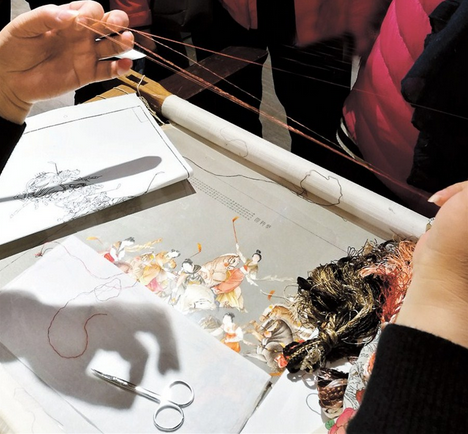 Zhao Hongyu shows how to split silk strand into finer threads. [shanghaidaily.com]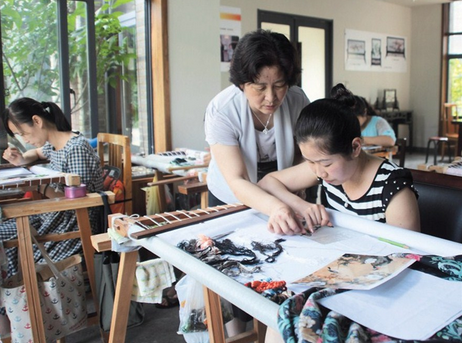 Zhao Hongyu instructs students at her workshop at the foot of Huishan Mountain in west Wuxi, Jiangsu Province. [shanghaidaily.com]
(Source: shanghaidaily.com)