Sa Dingding performs at Tango Club in Beijing. [China Daily]
Lack of a common language has never been a stumbling block for Chinese award-winning singer-songwriter Sa Dingding.
Sa, 34, was the first artist that UK music producer and composer Marius de Vries worked with who spoke no English. But when they met in London several years ago, both of them immediately felt uncomfortable trying to communicate through an interpreter.
"We made the interpreter wait outside and then we had the interpreter go home," De Vries remembers.
The result was a collaboration in 2009 on Sa's second album, Harmony.
"We made this album without talking to each other," recalls De Vries, who recently visited Beijing during the 7th Beijing International Film Festival. Harmony will be released in vinyl album by Universal Music this year.
After they met, De Vries came to Beijing for four weeks. They started the album from a collection of sounds that Sa recorded from Yunnan province, such as percussions and people's footsteps. Among the 11 tracks, the two wrote three songs together, including an English song, Lucky Day, for which De Vries wrote the lyrics.
"The first thing that struck me was her voice, which is unique and full of personality. It was an alluring first exposure to her music," the producer adds.
De Vries has worked with the likes of Madonna, Massive Attack, Elbow and Bjork over the decades and is best-known recently for his role as music director and music producer for the award-winning musical La La Land. Working with Sa, whose music is filled with ethnic Chinese music elements, was a fresh learning experience.
"I felt that I wasn't finished with this place," he recalls of the day when they wrapped up the album and he left Beijing.
Creative Minds
Eight years later, De Vries returned to Beijing and was part of Sa's new projects in her new role as music director of the new CU Music, a Beijing-based joint venture of China and UK.
"I like working with creative minds. I look forward to have interesting music to make and connections to build in China," says De Vries.
"My job," says Sa, "will be discovering new talents and helping them to achieve in this career. As a singer-songwriter myself, I have lots of ideas for music. But some ideas cannot be realized by me. With this new role, I will fulfill these ideas through other singers."
She says the music company also covers the territories of movies and TV shows, which will be both challenging and exciting.
Transformation
Sa is known for her ethereal vocals and fusing traditional folk music with avant-garde interpretation. In 2007 she received international acclaim by winning the BBC Radio 3 World Music Award for her album Alive, which sold more than 2 million copies in Asia.
Born to a Han father and Mongolian mother, her earliest musical influences came from her nomadic life as a 3-year-old on the grasslands of Inner Mongolia with her grandma. There, she learned how to sing and speak Mongolian, which shaped her habit of music as a daily routine, molding her distinctive voice and love of freedom.
She has recorded five full-length albums with Universal Music, which she used as a springboard to launch tours in Europe.
"When I look back on my career, I see myself transform from an independent singer-songwriter to an artist, who is lucky to work with international musicians. Music does not just bring me fun but also broadens my vision. There are many young talents in China who share my dream with music at an early stage. I want to help them," Sa says.
Collaborations
Besides potential collaborations with De Vries, Sa also has American Emmy-winning composer Laura Karpman working with her in the new company.
In 2015, Sa performed at London's Lancaster House in the presence of President Xi Jinping and his wife, Peng Liyuan, at a creative collaboration summit between China and the UK that Prince William and his wife, Kate Middleton, also attended. Her work featured ethnic dancers from Southwest China's Yunnan province.
"I was crazy about her music, especially her voice," recalls Karpman, who participated in the UK event. "We spent five days together in Beijing before she performed in London. Every night, she invited musicians from all over China to play music after dinner. The last night, there was only her, singing a song without any accompanying instrument. That was the most beautiful thing I've ever heard."
A composer for 25 years, Karpman, was trained classically and graduated from The Juilliard School. She has always been fascinated by the potential of marrying music with drama.
"The new company that Sa Dingding is working with also deals with movies and TV shows. We will see if we can incorporate Western-style music into Chinese films," Karpman says.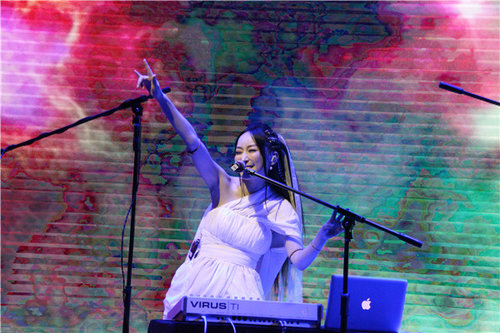 Sa Dingding performs at Tango Club in Beijing. [China Daily]
Sa Dingding performes at London's Lancaster House in the presence of President Xi Jinping and his wife at a creative collaboration summit between China and the UK. [China Daily]
(Source: China Daily)