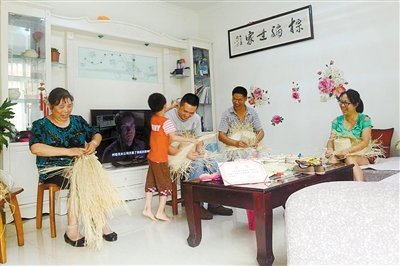 Li Tianqing's family [Chengdu Daily]
It is 4 p.m. and Li Tianqing and her husband Gao Yingmao just returned home from a country fair where they collected and purchased female villagers' palm leaf-woven articles.
Palm-leaf weaving is one of the most representative traditional crafts of the aptly named Ancient City Town in Pixian County, southwest China's Sichuan Province.
As a city-level intangible cultural heritage inheritor, Li has long dedicated herself to practicing and teaching the technique, as well as helping local craftspeople sell their goods.
Li began to learn palm leaf weaving methods at 11 from her grandmother. In the past five decades, she has made a wide range of products such as candy boxes, shoes, hats, bags, baskets, vases, toys and fans.
Gao is supportive of his wife's career. In 1991, the couple started a palm leaf weaving business. They buy products at local fairs, process them and sell finished products to local businessmen.
"People living in nearby towns all know we're collecting finished products. As soon as they make some, they bring them to us," Li said.
In 2010, palm leaf woven products sold poorly. "In the worst times, we had 300,000-400,000 yuan (U.S.$ 44,000-60,000) worth of goods piled up at home," she recalled.
Despite that, Li's family maintained its business. "If we had stopped buying their products, villagers wouldn't weave any longer," she added.
Li's daughter Gao Jing has learned palm leaf weaving since childhood. In her eyes, although the weaving art of Ancient City Town has great fame, related sales methods are "too traditional to catch up with the times."
In 2011, to help her parents overcome their sales difficulty, she opened an online store. "In the beginning, all the orders were placed by individuals. It was half year later when a factory in east China's Zhejiang Province ordered 10,000 woven hats that our sales problem was solved," she remarked.
In recent years, many communities and villages near the province's capital city of Chengdu invited Li to teach local residents weaving skills.
"She often went out for five to six days on such visits. Sometimes, public welfare organizations also invited her to teach people with physical impairments," said Gao Jing.
Last year, Li set up a palm leaf weaving cooperative. "Each time when people come to study the craft, I feel quite excited because not many people master it nowadays," she added.
Statistics show that the number of people engaged in palm leaf weaving in Ancient City Town has increased from fewer than 100 to over 200. Their incomes have risen by around 30 percent.
(Source: Chengdu Daily/Translated and edited by Women of China)