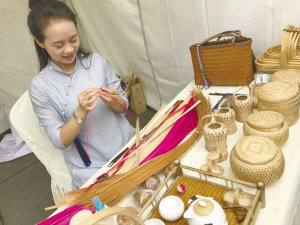 Yang Longmei [Chengdu Evening News]
A fair which presented 29 cultural and art projects opened on August 19 on a square next to Wuhou Temple in Chengdu, southwest China's Sichuan Province.
Many intangible cultural heritage projects displayed at the event reflected environment-friendly concepts such as recycling, and advocated a harmonious coexistence between humans and nature.
Locally, bamboo weaving has a history of over 300 years. "Traditional bamboo woven articles can cut the use of disposable plastic products and reduce waste," said Yang Longmei, a 26-year-old city-level intangible cultural heritage inheritor.
This year, Yang brought baskets of different sizes, shapes and uses to the fair.
She said Daoming bamboo weaving has made a perfect combination of traditional craft and modern elements, developing a wide variety of articles for daily use such as vegetable baskets, fruit bowls and trash bins which can replace plastic containers.
Luo Hui, a local employee from the financial industry, said: "At the sight of so many lightweight and useful bamboo products, I'm willing to carry a vegetable basket to a supermarket instead of plastic bags."
Liu Junying, 57, is a city-level inheritor of the palm-leaf weaving craft in nearby town Xinfan.
Liu has been able to turn palm leaves into artwork ever since her childhood. Seven years ago, she established a cooperative, mobilizing over 20 rural women to preserve and develop the ancient art.
During the fair, Liu displayed various woven bamboo boxes and baskets that her cooperative developed in recent years.
(Source: Chengdu Evening News/Translated and edited by Women of China)