Yugur costumes at Ke Cuiling's store [Gansu Daily]
"Red-tassel hats and head-ornaments are characteristic of Yugur people's costumes," said 57-year-old Ke Cuiling from Su'nan Yugur Autonomous County, northwest China's Gansu Province.
"A nomads' ethnicity in the past, Yugur people put their most valuable things on their body. For example, they sewed red corals and agate onto head ornaments," she added.
Su'nan is the only Yugur autonomous county in China. To date, three traditions of the local Yugur ethnic group – its folk songs, ethnic costumes and wedding customs – have been listed as national intangible cultural heritages.
Ke is a well-known figure in the region for her efforts in passing down Yugur costume-making craft.
Cui's strong interests for her ethnicity's history and culture started at 14. In addition to collecting old ornaments, embroideries and daily-use articles, she learned various skills from other Yugur people across the county and has so far mastered 16 crafts such as leather carving and embroidery.
In 2005, Cui retired from working at the Su'nan Nationalities Museum. Since then, she has put all her energy into developing and innovating traditional Yugur costumes.
Now, at the Su'nan Intangible Cultural Heritages Preservation and Inheritance Center, Cui has a group of apprentices who are community residents, laid-off workers and former herders.
Cui believes living inheritance or inheritance through people is the best form of protection for the ethnic group's culture.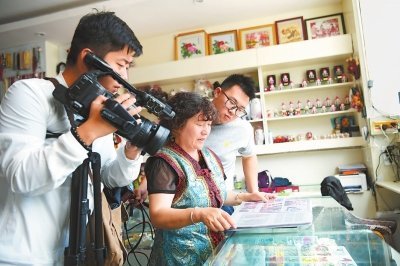 Ke Cuiling (C) explains Yugur costume traditions. [Gansu Daily]
Ke Cuiling (L) instructs an ethnic Yugur woman how to make an ethnic costume. [Gansu Daily]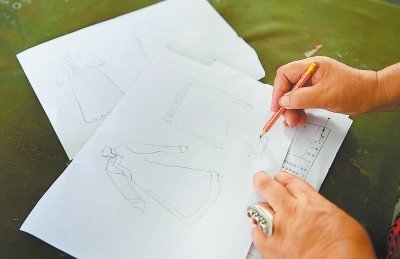 Ke Cuiling draws a design on paper. [Gansu Daily]
(Source: Gansu Daily/Translated and edited by Women of China)