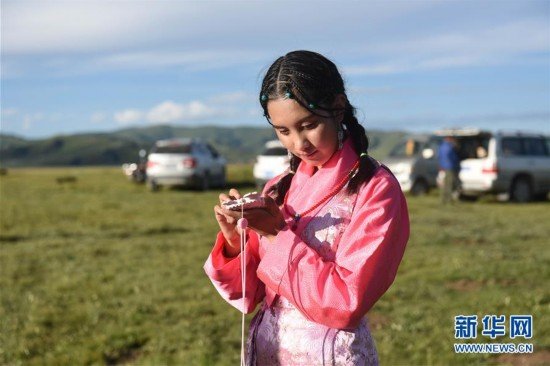 Deqen Yuzhen [Xinhua]
As the sun casts a layer of golden light on the prairie of northwest China's Gansu Province, 19-year-old Tibetan woman Deqen Yuzhen stands in the wind, proudly singing her favorite folk song.
Though she is vision-impaired, with her persistent efforts and help from people around her, Deqen – daughter of a herdsman family from Maqu County in the province's Gannan Tibetan Autonomous Prefecture – has realized her dream of becoming a folk singer.
Deqen lost her sight only a few days after her birth, due to serious illness. Despite this, she is optimistic and has sharp ears. "Speak a few words to me and I can tell you how tall you are," she said.
Born with a good voice, Deqen often sings loudly on the prairie. Local herdsmen praise her as a "lark".
At nine, Deqen began to attend a school for the blind in Lhasa, southwest China's Tibet Autonomous Region. During that period, she learned many folk songs by listening to the radio and from other Tibetan students.
Later, after she performed on the stage, more people spotted Deqen's musical talent.
In 2014, thanks to many benevolent people's help, Deqen went to the Shanghai School for the Blind.
Her gift received the attention of Yu Lihong, a professor at the Shanghai Conservatory of Music and one of the country's top sopranos. Yu has been tutoring Deqen in singing ever since.
Whilst other students looked to Yu to see the shape of her mouth, Deqen had to put her hands on her belly to feel the strength she uses for making a sound.
Yu's students volunteered to help the talented special student with her studies, making Deqen a Braille book of songs.
"Her progress is obvious to everyone," said Yu.
"When Deqen first came here, she sang in a loud voice all the time and got tired after two or three songs. But now she has learned how to use her voice properly and can perform a whole concert by herself."
On June 26, the Shanghai Conservatory of Music held a concert especially for Deqen at its musical hall.
This summer, Deqen graduated from the Shanghai School for the Blind and returned to Gansu for the summer vacation. "I like singing on the prairie of my hometown. It makes me feel free and unconstrained," she said.
When talking about the future, she said: "I hope more people hear my songs, understand my ethnicity and share my happiness."
(Source: Xinhua/Translated and edited by Women of China)