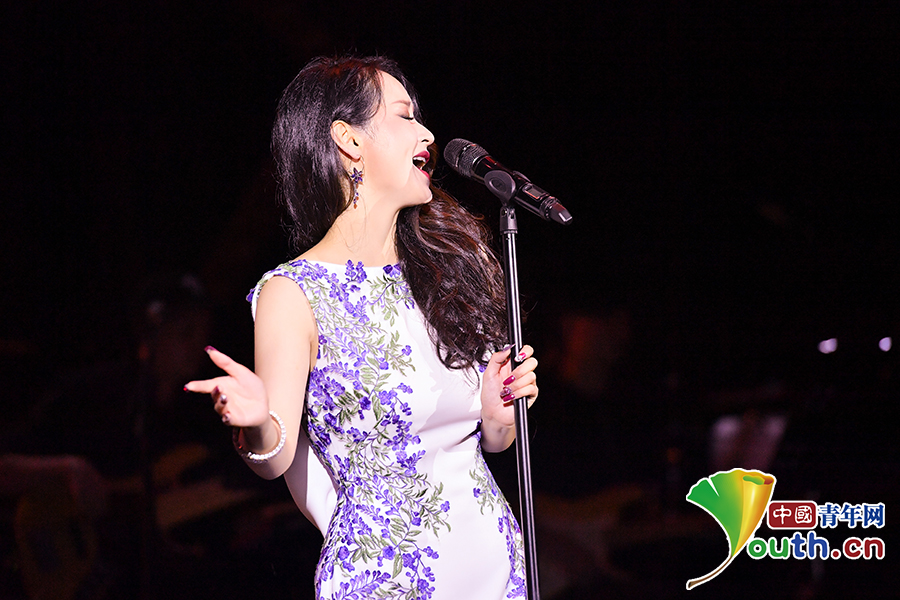 Lin Bao performs whilst wearing a traditional Chinese cheongsam at a concert in Shanghai in 2016. [Youth.cn]
Chinese singer Lin Bao, 34, has been a culture and performance lover since her childhood. Each time there was a party in the neighborhood, her father would encourage her to perform.
She inherited her father's talent in art and later became an inheritor of the Huju (Shanghai) opera.
As a young girl, she could already sing two famous operas, the Thunderstorm and the Encounter of a Star.
Living in Xinjiang in northwestern China where people from the Uygur ethnic group are famous for their singing and dancing, she was deeply affected by the unique expression with ethnic characteristics.
After her family relocated to Shanghai when she was 10, she spent a hard time learning the local dialect by listening to the tapes.
She was admitted to the city's best-known art troupe for teenagers at 12. She became a fan of Mariah Carey and began learning to sing her songs. "English pronunciation was a special challenge for me at that time," said Lin.
With hard practice every day, she learned many English songs. Her performances attracted the attention of Cao Junhong, a famous songwriter in southeast China's Taiwan. Her dream came true when Cao eventually signed her.
Her later career was full of ups and downs. In 2003, her first album, Be Complacent, was released in Taiwan. It won many awards and captured numerous fans.
By 2004, when digital downloads greatly affected the record market, her career began to take a downturn. However, she was frank about the situation, "I'm happy my success wasn't lasting. This allowed me to have enough time to reflect."
She wrote songs for victims of the Wenchuan Earthquake in southwest China's Sichuan Province in 2008, which encouraged the survivors to face hardships and live bravely.
In late 2011, her new album of traditional Shanghai music was released. Wandering Alme, the theme song, became popular globally.
Besides singing, dancing is another indispensable treasure in her life. In 2005, she opened her own dancing studio to teach jazz, Latin and hip-hop. When the record industry was in depression, she learned the Middle East-style dancing. She went to Egypt for a study tour in 2008.
She said, "I'm preparing to produce the silk road-themed record with elements of Middle East dancing. What I learned 10 years ago is of great use today."
Five years ago, Lin began to find her strong interests in China's traditional culture and philosophy. She said that China's culture and arts influenced her a lot and she has become self-composed and confident.
She has committed herself to promoting excellent Chinese traditions and culture since holding her first solo concert in New Zealand in 2006.
Lin told the journalist, "China's culture is extensive and profound. It's my life goal to spread Chinese traditional culture to the world as a new generation artist."
Lin Bao performs at New York's Lincoln Center in 2017. [Youth.cn]
Lin Bao plays the lead in the TV drama "Venus Love" in 2004. [Youth.cn]
Lin Bao (center) attends a charity performance for the Wenchuan Earthquake. [Youth.cn]
Lin Bao practices calligraphy (L), along with one of her paintings (R). [Youth.cn]
(Source: qclz.youth.cn/Translated and edited by Women of China)