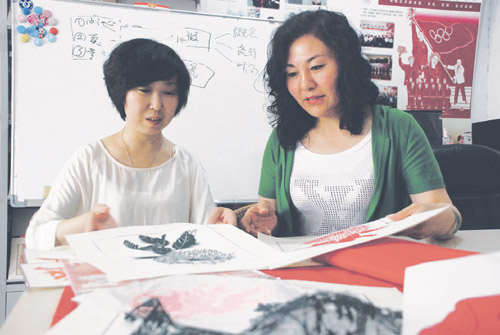 Lu Xue (R) introduces her works. [United Daily News]
Lu Xue, a renowned Chinese paper-cutting artist, won the Xinchuan Award, for her 20-year-long devotion to the inheritance and passing down of the unique craft this year.
Set up by the country's administration for intangible cultural heritage protection, the award aims to commend inheritors who have made outstanding contributions to keeping Chinese traditions alive.
"I felt proud to receive the award alongside top-level arts masters of our country on the same stage," said Lu, who is president of the Chinese Arts Paper Cutting Association.
Lu began learning paper-cutting at six. Later, she traveled across the country to find folk artists engaged in the art.
"An elderly artist in Puxian County of north China's Shanxi Province has influenced me my whole life," she said.
"He said to me: 'You must first create the eyes well when making a figure or bird pattern. Paper is lifeless, but it will come alive under your scissors.' His words made me understand that 'the vitality of arts lies in innovation."
Since then, Lu's works have overcome the limitation of traditional themes, and began to carry profound cultural connotations.
Meanwhile, she dug into the history of Eastern and Western culture, trying to integrate the best aspects from various styles such as oil painting, fine brushwork and sketching.
Making constant improvement and innovations, Lu gained high recognition from professionals in her field.
An experienced artist once said: "Under Lu Xue's scissors, even a leaf or a stone is touched with vivid life."
Going Global
"Actually, paper-cutting is not as always how we think. It is more than a Chinese folk art. Many international arts masters hold this art form in esteem. Picasso, Matisse and Anderson were all its enthusiasts," Lu said.
Following in her footsteps, Chinese paper-cuts have been taken across the world.
In 2003, she gave the 112 paper-cuts based on Hans Christian Andersen fairy tales which she had spent several years to finish to the Andersen Museum in Denmark as a present.
Later, she gave her work, titled Andersen and Children from the Five Continents, to Denmark's Prime Minister.
In 2006, she was awarded by Queen of Denmark the Silver Cross of the Order of Dannebrog, the first Chinese artist to receive this honor.
In April 2007, she was evaluated as "an outstanding talent" by the government of Hong Kong Special Administrative Region in south China and resettled there.
In the past 20 years, Lu has been busy keeping up her paper-cutting career – holding exhibitions, making foreign visits, giving lectures and carrying out exchanges.
She has also created a unique series of work depicting historical celebrities, Olympic champions and social events such as the 10th anniversary of Hong Kong's return to China, and the Beijing Olympics.
Recently, she is working on a series featuring Chinese zodiac animals.
For Lu, paper cutting is a lifelong career. At a meeting of the Chinese People's Political Consultative Conference Shandong Provincial Committee this year, she proposed to found the Chinese Paper-Cut Arts Museum alongside 80 other committee members.
"Anyway, I will make efforts for developing and strengthening Chinese paper-cutting cause," she concluded.
The museum which Lu hopes to establish is set to be built in the province's capital city of Jinan, according to a spokesperson.
(Source: United Daily News/Translated and edited by Women of China)