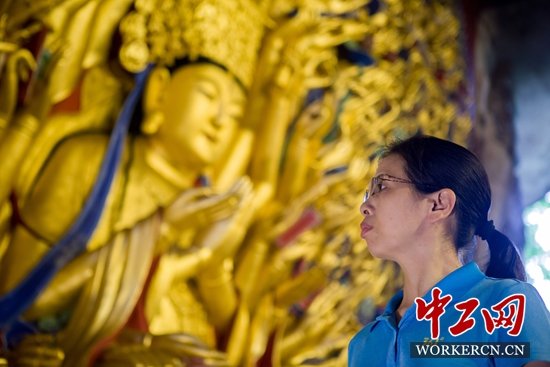 Chen Huili looks at the rock carving. [workercn.cn]
Chen Huili has engaged in the preservation and restoration of cultural relics for around 23 years, and she still shows great enthusiasm for her work every day.
"They are not cold stone. They have lives in my eyes and I have deep affection for them," Chen said.
Chen was transferred to the Academy of Dazu Rock Carvings in southwest China's Chongqing Municipality from its neighboring province of Sichuan in 1995. Soon, she was allocated to serve as a watcher of cultural relics at the conservation center in the academy due to her experience in material analysis and chemistry.
In 1996, Chen was involved in the preservation of historical relics and she also encountered some doubts from others. As the repair work of rock carvings not only required a knowledge of history, archaeology, epigraphy and chemistry, but also a familiarity with practical stone carving, lacquer, gilding and color painting skills. It was a great challenge for Chen because she was engaged in repair work for only a year at that point.
Facing such doubts, Chen has never flinched; on the contrary, she has nearly spent all of her time in work. She consulted her colleagues in the daytime and learned by herself at night. "I believe that I can do it!" said Chen. After three years of persistent efforts, she became an outstanding relic restorer.
A project on the restoration of the 800-year-old rock carving statue of the "Thousand-handed Goddess of Mercy" was launched in early 2008. Chen acted as a team leader and was in charge of the restoration of the statue's appearance and body.
Over the past eight years, Chen and her team members have gone through many hardships in the process of repairing the stone relic. Chen said the statue has experienced several centuries of wind erosion and 34 other types of listed damage, and around 830 hands of the statue had flaws to some extent.
Faced with such difficulties and challenges, Chen took the lead in carrying out the repair work. "It is my responsibility, mission and honor to restore this national treasure and carry forward national culture," she said.
Accordingly, Chen alone has completed the restoration of 80 hands of the statue, which is a large number in the repair work. "Aside from professional skills, our work also needs patience, a sense of responsibility and willpower," Chen explained.
To restore the hands of the statue, Chen carried out on-the-spot investigations in 30 grottoes in provinces including north China's Hebei and east China's Shandong.
Chen has never taken a day off or holidays since she was occupied with the restoration of cultural relics around 23 years ago. For her busy work, Chen said her family members gave her their support and understanding as they knew that she deeply loves her work.
In 2015, Chen published her work, Exploration and Practice of the Protection of Dazu Rock Carvings, totaling 450,000 words.
From 2016 to 2017, Chen has won multiple awards including Chongqing's May 1st Labor Medal; Outstanding Talent Contribution Award; Chongqing's Women Role Models Making Achievements; and, National May 1st Labor Medal conferred by the All-China Federation of Trade Unions.
Chen said, "Only when I am engaged in the restoration of cultural relics can I keep peace of mind and reflect on life values. I am willing to devote my lifetime to my career."
Chen Huili uses a tool to restore a cultural relic. [workercn.cn]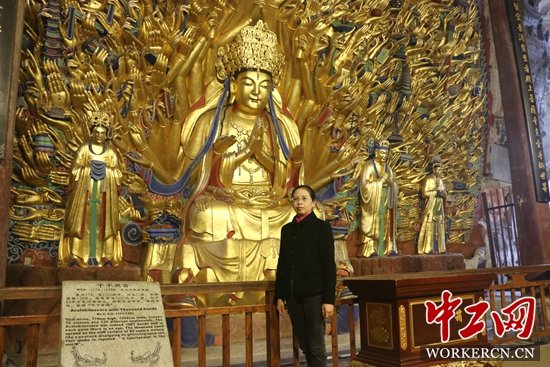 Chen Huili stands in front of a statue of the "Thousand-handed Goddess of Mercy." [workercn.cn]
(Source: workercn.cn/Translated and edited by Women of China)