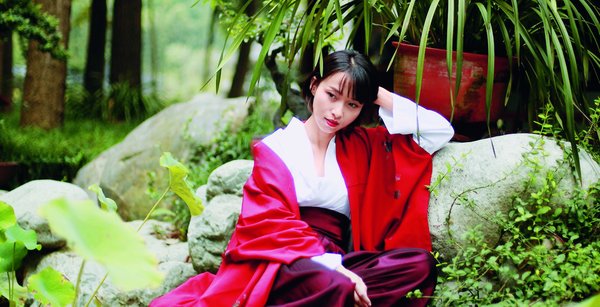 Chen Jing
Watercolor artist Ziqingzuo (Chen Jing) was born in the 1980s and raised in Chengdu, southwest China's Sichuan Province. She later graduated from the Costume Design Department of Jiangnan University.
She furthered her education under watercolor artist Huang Youwei at Tsinghua University's Painting and Calligraphy Class.
She created a series of watercolor paintings for the collection of poems Like Waiting, Like Pursuing.
Now, Chen is a full-time painter of Beijing Academy of Watercolor, a member of Beijing's Dongcheng Artist Association and Beijing Jiuzhou Painting and Calligraphy Institute, and one of the main tutors at the school Artfire.
"Assuming I can live a hundred years, one third of my life has been spent. It's time to make a summary," Chen said.
"Time flies, and I've turned from a girl who likes daydreaming to a mother of a seven-year-old."
"When did I become interested in watercolor? When did I find myself fond of fish? That's hard to answer."
Memory of Fish
Fish
"I started learning swimming at the age of five. Every time I jumped into the water, a sense of excitement arose spontaneously.
"At that time, I often wondered whether I was a fish in a previous lifetime. Otherwise, I would not be so addicted to playing in water.
"Since watercolor painting takes water as its medium, I can present fish in a vivid manner."
Remaining in a State of Dreaming
Chen Jing
"I still remember my kindergarten teachers used to ask us the question 'What do you want to do when you grow up?'. 'Painter,' I often answered firmly.

"To make this distant goal come true, I started learning children's drawing, traditional Chinese painting, sketching and watercolor at the age of five. However, as I grew older, I paid more attention to examination and forgot that 'unrealistic' dream.
"Since then, I dabbled in various fields such as costume design, picture editing and clothes selling. A decade later, I found the dream of becoming a painter still remained in my heart.
"Thanks to my family's support, chance, and the guidance of my teacher Huang Youwei and senior editor Zhang Yanfang at Publishing House of Electronics Industry, one of my books will be published this coming March.
"Now, I believe only by way of working hard to create more works can I pay them back and live up to my childhood dream," Chen explained.