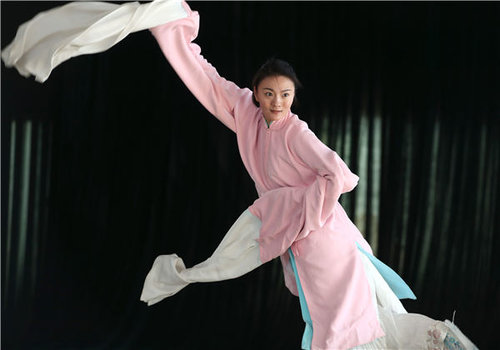 Peking Opera actress Li Li, one of Zhang Huoding's students, rehearses for her upcoming performance in Beijing in May. [China Daily/Zou Hong]
A young Peking Opera actress follows in the footsteps of a veteran to revive the old art form.
Actress Li Li walks quickly around the stage in a circle. Painstakingly, she repeats the moves again and again. The dust from the carpet billows in the air, catching the sunlight as it streams through the window.
For three hours every morning, she has been practicing the walks that transform her into a typical female character, or dan, in the traditional Chinese art form of Peking Opera.
The character she is rehearsing is Princess Tiejing from the classic Peking Opera Yang Silang Visits His Mother, which Li is due to perform on May 6 at the Tianqiao Performing Arts Center in Beijing.
"I just bought these new shoes," says Li, pointing to her blue cloth slip-on shoes. "The practice is intensive and the old ones wore out within two months."
While taking a short break, she sits on the carpet and watches on her tablet her teacher's performance of the same role. Her teacher is Zhang Huoding, one of the country's biggest Peking Opera stars, and one that Li considers as her "biggest inspiration".
"My teacher told me that the only way to guarantee the quality of the performance is to practice, from eye contact to breathing and movements onstage," says Li, 29. "She doesn't talk much but she is very inspiring."
The 47-year-old Zhang, who was born in Baicheng city in Northeast China's Jilin province, focuses on the Cheng school-one of the four major Peking Opera styles founded by famed master Cheng Yanqiu (1904-58) that emerged in the early 20th century-and has given sold-out shows across the country attracting audiences of all ages.
Li received her Peking Opera training from the age of 7 in Tianjin, where she was born and grew up. She then enrolled to study at an art school in the northern city, where she became a student of Meng Xianrong, a veteran Peking Opera actress who once taught Zhang.
In 2016, the Beijing-based National Academy of Chinese Theater Arts launched a project, which saw Zhang teach young female Peking Opera students.
Li, who graduated with a master's degree from the National Academy of Chinese Theater Arts and works with Beijing Peking Opera Theater, stood out among hundreds of applicants and later began to receive training from Zhang.
The upcoming show in Beijing will also feature performances by Zhang's other three female students - Jiang Xiaoyue, Yang Xiaoyang and Yin Chanjuan - who will interpret the classic roles once played by Zhang, including Bai Suzhen from The Legend of White Snake and Zhu Yingtai from Butterfly Lovers.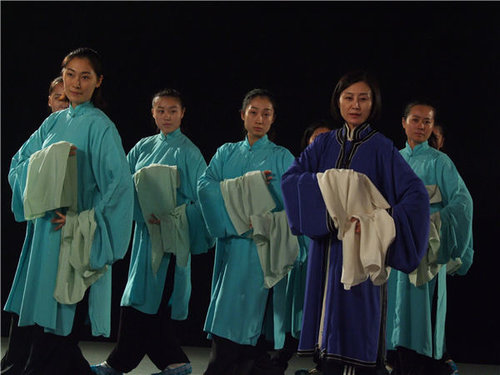 Zhang Huoding (second from right) instructs her students. [ China Daily/Zou Hong]
According to Xu Chao, a professor of the National Academy of Chinese Theater Arts, 10 students, who are either students of the same academy or actresses of Peking Opera companies across the country, have studied with Zhang so far.
"The mission is to keep the art of Cheng school alive and popularize it among the young," says Xu.
"It's not only her performing techniques but also her attitude toward this art that has a profound effect on her students," Xu says of Zhang.
For Li, the years before she studied under Zhang were a struggle, and she even considered quitting her job as a Peking Opera actress since the 200-year-old Chinese art form was facing decline.
"I had no performances and most of my colleagues tried to find other jobs. I really doubted myself and was looking for a change," Li says.
She took lots of auditions to perform in different shows.
And in July 2013, she won the opportunity to play in a musical titled Monkey: Journey to the West, which is a stage adaptation of the Chinese novel Journey to the West written by Wu Cheng'en of the Ming Dynasty (1368-1644). The show opened that year during the Lincoln Center Festival in New York where Li spent six months.
"I lived in a fancy hotel and went to the theater every day. It was a totally different experience from being a Peking Opera actress. I made about 100,000 yuan ($15,750) from the musical, which was big money for me," recalls Li, who made about 2,000 yuan a month at Beijing Peking Opera Theater then.
After the musical, Li received some other opportunities to perform in Western stage productions but she decided to return to Beijing in 2014.
That year, Zhang announced her return to stage after a four-year hiatus and Li watched Zhang's sold-out show at Beijing's Chang'an Grand Theater.
"It was the longest standing ovation I've ever seen. The audience was asking when they could see her performance again. I felt then that I should not give up the art form," says Li. "Now I feel very calm and confident with this art."
In September 2015, when Zhang made her debut at the Lincoln Center for the Performing Arts in New York by performing two shows, The Jewelry Pouch and The Legend of White Snake, Li was there as Zhang's assistant. It was the same dressing room and the same stage that Li had used in the musical Monkey: Journey to the West.
"It reminded me of my days in New York in 2013 but I didn't miss them. Now I want to focus on Peking Opera," Li says.
(Source: China Daily)