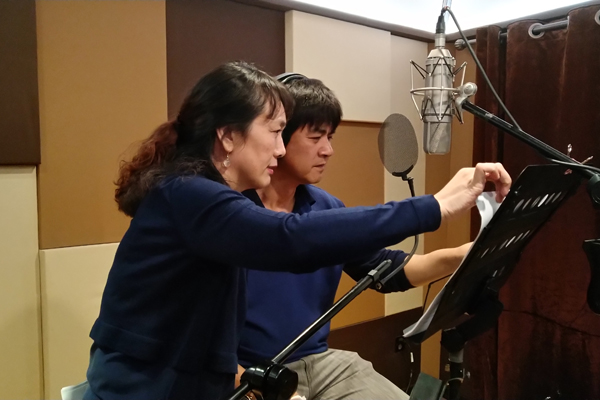 Singer Cui Jinhao and director Tang Wenjuan prepare for Cui's concerts. [China Daily]
Gu Jianfen, one of the country's most prolific composers, has been into music for the past six decades.
And while she is better known for pop hits such as The Kiss From Mother, Missing and Young Friends Come Together, since 2005 she has composed 50 songs with classical literature as lyrics.
Now, from May 31 to June 2, the 83-year-old Gu will join the China Oriental Performing Arts Group in Beijing, to showcase her songs adapted from Chinese classical literature, such as San Zi Jing, or The Three-Character Classic, a 13th-century text for children on Confucian philosophy, and Di Zi Gui, or Standards for Being a Good Pupil and Child, written in the 17th century, which is based on Confucius' teachings.
Gu, who was born in the Japanese city of Osaka, was brought to China by her parents in 1942. She loved music from childhood and her parents bought her a piano when she was 10.
In 1955, she graduated from Liaoning province's Shenyang Conservatory of Music and started out as a composer for the China National Song and Dance Ensemble, which was then known as the Central Song and Dance Ensemble.
One of her songs, Young Friends Come Together, which was released in 1980, has been incorporated by UNESCO into its music teaching material for the Asia-Pacific in 1983.
Meanwhile, according to Song Guanlin, the general manager of the China Oriental Performing Arts Group, the upcoming performance season will feature a variety of performances, including vocal concerts, dance and instrumental shows, which will be held at the National Library of China in the capital.
In 2005, the China Oriental Performing Arts Group was formed after the merger of two national platforms for singers and dancers the China National Song and Dance Ensemble, set up in 1952 and the China Oriental Song and Dance Ensemble, founded a decade later.
One of Gu's students, singer Cui Jinghao will open the performance season with concerts on May 13 and 14. The concerts, featuring songs written by Gu, will mark Mother's Day.
Composer Meng Ke, who was a member of the team of China's eight-minute closing ceremony performance at the 2018 Pyeongchang Winter Olympics in South Korea, will be the concerts' music director.
Cui, who was born in a small village of Muling county, Heilongjiang province, started learning music from Gu in 1993.
The singer from a Korean ethnic group rose to fame doing theme songs for popular TV dramas, including Romance of the Three Kingdoms, a Chinese television series from 1994, which is adapted from the classical novel of the same title.
Cui says he invited his teacher, Gu, to join in the concerts.
Speaking about Gu, Cui says: "I've been learning from her for decades and she is like a mother to me."
On May 25, Xier Aili, a singer-songwriter who was born in Kashgar, Northwest China's Xinjiang Uygur autonomous region, will do a concert, featuring popular Xinjiang folk songs.
(Source: China Daily)