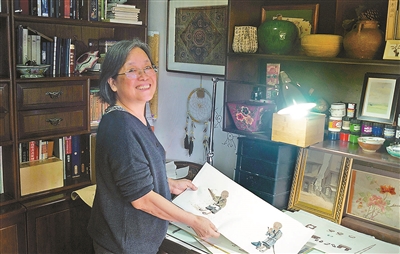 Cai Gao [Cyol.com]
An elderly illustrator from central China's Hunan province has committed herself to youth literature and painting for several decades to promote cultural knowledge among children.
Cai Gao, 72, was born in the city of Changsha, where she taught at primary schools in the countryside until the 1980s.
She then worked for Hunan Children's Publishing House and practiced editing and art creation. In her spare time, she was also occupied by creating picture books, paintings and prose.
In 2008, she held her first domestic exhibition in Beijing. In 2017, her picture book Fire City 1938 was selected to feature in the Biennial of Illustrations Bratislava (BIB) in Slovakia.
Fire City 1938 was painted entirely in charcoal, to depict the streets in Changsha from her childhood memories which had disappeared after the war.
She said: "I like this city. I felt helpless while the city was burning. Children today may not be able to understand how cruel the wars were, since many of them really enjoy playing games on computers nowadays. I want to tell children through this book that war is never a game!"
As early as in 1993, she exhibited Fox in the Wasteland at the 14th BIB and became the Golden Apple award winner, the first Chinese person to do so.
In 2000, she was appointed as a jury member of the 34th Bologna Children's Book Fair, Italy.
In 2001, her book The Story of Peach-Blossom Spring was published in Japan. Her book Mulan won gold at the first Chen Bochui International Children's Literature Awards in 2015.
In 2006, four writers from Japan proposed to work with Chinese and Korean painters including Cai, to create a inspirational, collaborative volume on the theme of peace to address historical matters.
Cai only started painting in her 40s. Her views on life and artistic appreciation were deeply affected during the time she was assigned as a village primary school teacher during the Cultural Revolution (1966-1976).
The simple and rustic customs of the country and the beauty of nature gradually infiltrated the depths of her heart, giving her the ability to enjoy ordinary life.
With years of working experience, she has captured children's sensitivity to color and their preferences. Thus she is influenced by many kinds of folk arts such as New Year pictures, lacquer paintings, and Xiang (Hunan)-style embroidery, and always makes her contents understandable and acceptable for children.
Cai has lived with her grandmother and several siblings together since her childhood and she learned many traditions from her grandmother, such as worshiping ancestors, writing and painting and practicing paper-cutting.
Cai has never paid much attention to her educational background, whilst she has showed relentless love and persistence towards the creation of arts.
"I once regretted that I had never had the chance to enter college for further study. One day I found I didn't really need that. I am a person with a clear goal. The purpose of going to school is to learn more, whilst there are many other ways to achieve that," said Cai.
Many people who are familiar with Cai said she never niggles about details during her creation, but cares more about an artistic conception and a positive attitude towards life.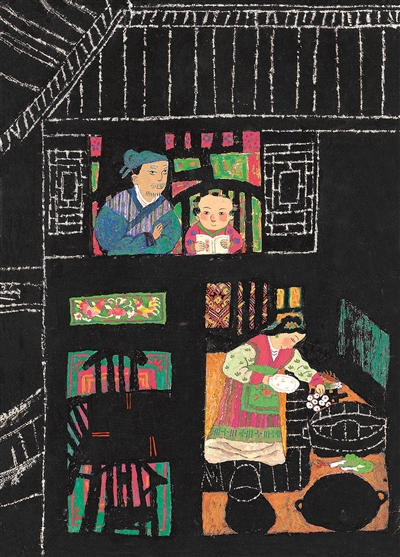 A page from 'Fox in The Wasteland' [Cyol.com]
A page from 'The Story of Peach-Blossom Spring' [Cyol.com]

(Source: Cyol.com/Translated and edited by Women of China)