Shen Shihua [People.cn]
A senior performer who spent decades perfecting the traditional musical art of Kunqu Opera, recently returned to the stage years after retiring from public life. Her performance remained appealing and was highly acclaimed.
Shen Shihua, 69, an industry-recognized legend became a leading luminary as a Dan actress before she turned 20.
She later became the first female professor in the history of Kunqu Opera art education, and went on to instruct over 30 winners of China's prestigious Plum Performance Award.
Shen, recognized as a representative inheritor of Kunqu Opera — a national intangible cultural heritage — is currently a professor at the National Academy of Chinese Theater Arts (NACTA).
Even with all her admirable achievements, She once encountered the setback of failing to pay her tuition fees when she was young due to her family's economic burden, and she could only take classes at night school, which were free.
Shen was born in 1941 in Shanghai, a famous city of opera performers and shows. The school she attended was adjacent to the Great Theater of China. She was often attracted to its billboards and determined to become a performer.
Due to the inconvenience of merely snooping from the side of the stage, she started a small business of selling cigarettes in the stalls, so she could appreciate the performances from a better view.
After being deeply influenced by the performers, Shen intended to learn from a mentor. Fortunately, she met famous Kunqu actor Wang Chuansong in Hangzhou, east China's Zhejiang province, by chance and became his apprentice.
Shen soon became one of the leading actresses of Zhejiang Kunqu Opera Troupe and has successfully portrayed many classic roles such as Wang Yuzhen in The Story of Western Garden, Li Xiangjun in the The Peach Blossom Fan and Bai Suzhen in The Broken Bridge of West Lake.
During the 70s, Shen withdrew from performing and worked in a machinery plant in Hangzhou.
At the end of the 70s, she returned to the stage, and her opera The Story of Western Garden was an unprecedented success.
Out of consideration for her daughter and elderly mother, Shen decided to take a break from her performing career. In the mid-80s, she was transferred to teach at the NACTA.
In addition, Shen has also delivered lectures in colleges and universities to give a comprehensive understanding for students who are interested in Chinese opera.
Having committed to the industry for 65 years, Shen said Kunqu Opera is her favorite and she would love to do a good job in this arena for the rest of her life.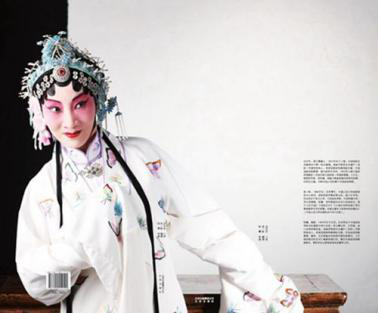 Shen Shihua performs Kunqu Opera. [People.cn]
(Source: People.cn/Translated and edited by Women of China)