A Datong high school student learns to make oil-paper umbrellas in Li's workshop during summer vacation. [Photo/todayguizhou.com]
Li Zhenxia, a Guizhou-born craftswoman of oil-paper umbrellas, which were listed as a national intangible cultural heritage item, has gained attention recently due to her success in turning the umbrella business into an industry worth approximately 1 million yuan ($145,610).
Li is a resident of Datong Ancient Town in Chishui, a county-level city governed by Zunyi city in Guizhou province. She was involved in rood carving before discovering a passion for making oil-paper umbrellas.
"A high quality umbrella requires the use of traditional techniques, which includes 96 different steps using bamboo that is at least five years old at an elevation of at least 800 meters. This ensures that the umbrella can withstand strong winds," said Li.
Through years of study and development, Li and her daughter have created more than two hundred varieties of oil-umbrellas, of which sixty to seventy are considered boutique products.
Li said that she is responsible for the crafting and selling of the umbrellas while her daughter handles the design. Their products have been spotlighted at dozens of events, including the 2018 China (Guizhou) International Tea Culture Festival in May.
Li and her daughter's efforts have attracted an increasing number of buyers from across the country who are interested in their work.
In 2016, with the help of the local government, Li opened her own shop on the e-commerce platform Alibaba, turning her umbrella into a popular tourism product that can be found in many ancient towns in China.
Li also helped with local poverty-relief programs by teaching rural women her craft. "After training, workers can earn over 2,000 yuan a month in the workshop," she said.
Over the years, Li has thought of many ways to promote Chinese traditional arts by incorporating more cultural elements into her umbrellas, including Chinese paintings and opera masks.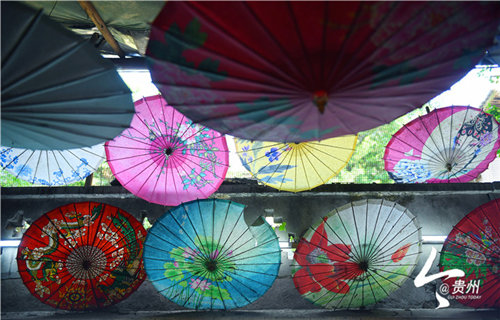 Oil-paper umbrellas displayed in Li's workshop [Photo/todayguizhou.com]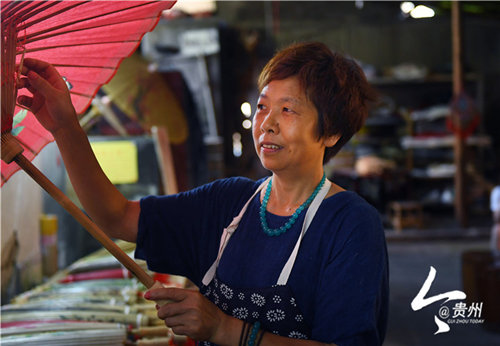 Li Zhenxia introduces her umbrella to guests. [Photo/todayguizhou.com]
(Source: China Daily)