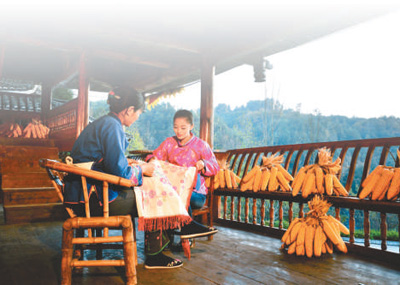 Zhang Juhua (L) [People.cn]
A cultural inheritor in southwest China's Sichuan province has committed herself to passing on traditional customs and spreading the local folk art of the Han ethnicity in the past several decades.
The Chaotian District, in Guangyuan City of Sichuan, is the birthplace of Maliu-style embroidery. In Maliu Township, many women normally begin to learn the craft from the age of four or five, and have gained mastery of various embroidery techniques before their marriage.
An inheritor of the intangible cultural heritage Maliu embroidery, Zhang Juhua's grandmother was a famous embroidery craftswoman during the Republic of China era; and Zhang's mother was also apt in this craftsmanship.
Being influenced since her childhood, Zhang followed the path of her seniors despite constantly pricking herself accidentally on sharp needles during the learning process.    
In the 1980s, there were 1,300 such female embroiders of the 3,000 women in the township of Maliu. However, more and more of them migrated to other areas to work after the 90s. Thus Zhang believes that embroidery represents not only inheritance of the craft, but also of local history and culture.
Her perseverance saw her embroidering skills improving by leaps and bounds. Her most sought after works such as Chrysanthemum and Orchid were exported; her embroidery flower pillows and lotus flowers handkerchiefs were kept in reserve by Sichuan Folk Art Museum.
With the promotion of Zhang and other embroiderers, the reputation of Maliu embroidery has grown bit by bit. In May 2000, Maliu Township was named as the Hometown of Chinese Folk Art by the former Ministry of Culture. In 2008, Maliu embroidery was designated as a national intangible cultural heritage.  
At the Chengdu International Festival in 2013, the exhibits of Maliu embroidery won the Best Exhibition Award.
To further spread Maliu embroidery culture and help local so-called "left-behind" women, the township initiated a relevant embroidery curriculum to teach Maliu embroidery at night schools and give special skill classes.
With the implementation of the Chaotian District tourism project, Maliu embroidery has become favored by more and more tourists, and it is even in short supply in the peak season.
In 2016, Zhang was invited by China National Machinery Industry Corporation to teach embroidery techniques among underprivileged families in the villages supported by the company.
Lu Yulian, a villager in Yulin Village, embroidered a piece of 40-centimeter-wide embroidery, which was bought by tourists for 400 yuan, and attracted more women to join the learning of the craft.
In order to gain bigger market share, Chaotian District has established more Maliu embroidery professional cooperatives. Under the leadership of 12 inheritors, trainees from more than 10 townships in the district, including many disadvantaged families, have registered with their organization.
Lu now has grown from a learner to a senior embroider. Her annual income has increased by 20,000 yuan and successfully helped her family get rid of poverty.
At the World Economic Forum held in Davos in Switzerland in January last year, two of Zhang's embroidery works were specially presented to the founder and executive chairman of the forum, Klaus Martin Schwab; one is embroidered with the logo of the forum, whereas the other is a portrait of Schwab.
(Source: People.cn/ Translated and edited by Women of China)