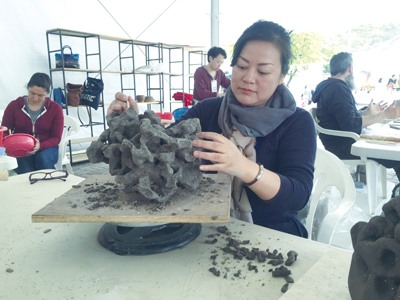 Pan Juan [Cnwomen.cn]
A ceramist in Jianshui County, southwest China's Yunnan province, has been protecting traditional Chinese culture for years by bringing new meaning to the craft of making purple clay pottery.
Pan Juan majored in painting before doing her master's degree in ceramics at Hubei Institute of Fine Arts, central China's Hubei province.
Upon completion of her postgraduate study, she established the Pansong Handicrafts workshop, intended as an open and inclusive platform to encourage more people to express their voices by means of their handicrafts.
Her educational background offers Pan an attitude of openness and inclusiveness towards art, which has also molded her unique pottery-crafting style. After graduation, Pan still spends her spare time doing investigations at various and varied types of pottery kilns across China. She never goes to a place without visiting its museum, which showcases the most classic and traditional works with distinct Chinese characteristics.
In addition, her exchanges with ceramic artists home and abroad have broadened her horizons.
She said, "It's unadvisable to be too rigid with Chinese ceramics. Ceramic artists should use it as a medium of communication and strive to broaden and explore the expressiveness of ceramics, and turn works of daily use into works of art."
In April 2016, at the invitation of the Korean Icheon Ceramics Association, Pan participated in the 30th Korean Icheon Ceramic Festival, where she created works live and exchanged ideas with 14 ceramic artists from other countries. In May that year, her work presented at the Shanghai International Tea Expo at the Shanghai World Expo Exhibition and Convention Center received high acclaim.
One of her works Seeking was also on display at the National Art Museum of China. In January this year, she participated in the organization of the 2018 China Jianshui Purple Pottery World Art Competition.
At present, entrusted by the Jianshui County Party Committee, she is taking an active part in the construction of the Jianshui International Station for exchange among purple pottery artists. In this way, she is hoping to help the art go global.
"Regionality is not simply about the materials or any specific technique involved. I hope that our handicrafts can show our unique cultural temperament while reflecting the regional characteristics of the province," said Pan.
(Source: Cnwomen.cn/ Translated and edited by Women of China)