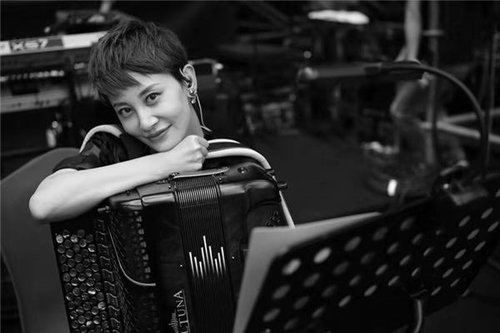 Wu Qiong is going to give a recital at the National Library Arts Center on Nov. 9. [China Daily]
Wu Qiong can still recall that when she was a child, her grandfather used to draw a big musical note in red chalk on a blackboard. That was how she started learning music.
Music is a family tradition. Her grandfather was a keyboard player, her father was a pianist and accordion player and her mother a violinist. Wu started learning piano when she was 3 years old, and at 9, she played her father's accordion recreationally and was drawn to the sound of the musical instrument. She decided to learn playing accordion with her father.
"The accordion is an amazing instrument," says the now 35-year-old musician, who was born and grew up in Tianjin. "It's powerful yet delicate and sensitive."
She has been a member of the China Oriental Performing Arts Group since 2010, and with the support of her fellow musicians, including a chamber music group and a male choir, Wu is going to give a recital at the National Library Arts Center on November 9.
Audiences will see her playing a rarely seen instrument, the bayan, a type of chromatic button accordion developed in Russia in the early 20th century.
"Although the bayan looks like a Western chromatic button accordion, it has a wider pitch range on the right hand and deeper and powerful sound on the left," Wu says.
Her repertoire for the recital, 17 works in total, range from adaptations of tangos by Argentine composer and bandoneon player Astor Piazzolla's music, such as Libertango, to new arrangements of popular soundtracks from movies, including the French musical, La Vie en Rose, Chinese director Jiang Wen's Gone with the Bullets and Chinese director Feng Xiaogang's Youth.
"I want to display the versatility of the musical instrument, melody, chords and accompaniment," says Wu. "The instrument was very popular with my father's generation. It's a social instrument and its sound brings to mind some nostalgic moments."
At 13, Wu was admitted to study the accordion at Tianjin Conservatory of Music and graduated from the school with a master's degree in 2009. The training enabled her to have solid techniques, however, Wu is aware of that fact that the musical instrument appealed to a limited audience.
To popularize the push-and-pull reed instrument, especially with young audiences, Wu joined the popular variety show, I Am a Singer, produced by Hunan Satellite TV Station, since the first season in 2013.
During the third season of I Am a Singer, Wu collaborated with Chinese singer-songwriter Li Jian on the song, Baikal Lake, which Li wrote and performed in 2011. The song not only won Li positive reviews from the audience and music critics but also enabled Wu and her musical instrument to be recognized by the audiences. Since then, she has been invited to perform at TV shows, including The Voice of China by Zhejiang Satellite TV Station.
With Li as her guest performer, Wu gave a solo recital in Beijing's Sanlitun area this March, playing Latin American music pieces. Classical guitarist Chen Chuan was also a guest.
"The feedback from the audience made me excited. They love the sound of accordion just like I do," says Wu. "I hope more young composers will write original music pieces for the musical instrument."
(Source: China Daily)