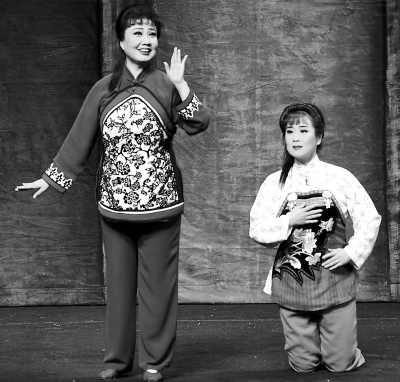 Wang Rongrong performs on stage. [Beijing Daily]
A mid-career artist from northeast China's Liaoning Province has performed in numerous modern Peking opera shows over the past two years to keep the theatrical tradition alive and pass her skills on from generation to generation.
Wang Rongrong, 57, has performed in Daughter of the Party no less than 50 times since 2016.
Few Peking opera works have been performed so many times in recent years.
According to Wang, she started to perform Daughter of the Party in 2016, yet her ties with the drama dated back to some 20 years ago when she watched the Western opera version of the work. There and then she had the idea to adapt it into a modern Peking opera, which was suitable for her performance style.
Because of her age, she hesitated about whether to choose the work which included lots of singing. After thinking it over, she decided to try her best to stage the performance.
Modern Peking opera is difficult to perform. Without the aid of elaborate costumes or makeup peculiar to ancient-style Peking opera, performers can only rely on their singing to attract audience. It therefore sets higher requirements for performing skills.
Wang, although having long gained fame and success, treats all her performances with determined and conscientious effort as she did at a young age.
Last year when she took part in the eighth Chinese Peking Opera Art Festival with the performance, she earned high acclaim from both the audience and experts.
This year, to produce the work, Beijing Peking Opera Theatre submitted an application to China National Arts Fund.
After obtaining financial aid, Wang went on her performance tour around the country, which began in east China's Jiangxi province.
She gave performances in both big and small cities. Although she encountered few older fans in small cities, she was glad that none of the audience left early during her performance.
"Some people might show little interest in the topic of my work, yet many of them were moved to tears after watching my performance," said Wang.
Under her influence, young performers have been strict with themselves.
It is quite common for many Peking opera performers to cease performing on stage at the age of 57. But Wang is an exception. She is happy that she has achieved greater progress in art as she stages more performances.
Over the next few days, Wang will perform Daughter of the Party at Chang'an Grand Theater. Her performance has been so popular that tickets to the show have already sold out.
(Source: Beijing Daily/Translated and edited by Women of China)