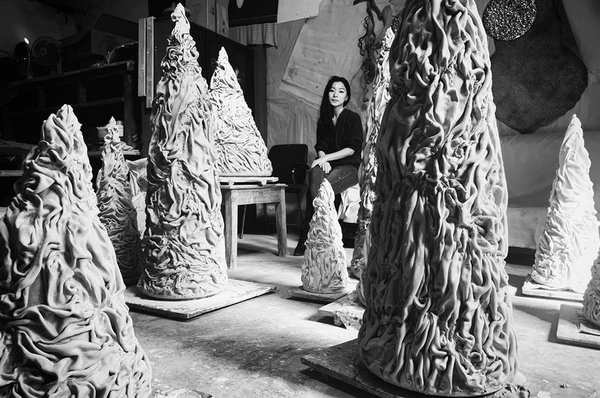 Liu Xi in her studio with her sculpture series "Where Are We Now?" [Shanghai Daily]
Not every female artist likes to emphasize a feminine identity in their works for fear of being marginalized, but for Liu Xi, the notion of femininity dominates her artistic practice, be it a piece of porcelain or glass.
She explores this more in her first solo exhibition "Earth in My Hands, Fire in My Heart" at the Art+ Shanghai Gallery, which runs through June 2.
Liu was born in east China's Shandong Province in the late 1980s. Having been brought up as a girl in a community environment that long for sons more than daughters, her upbringing was automatically exposed to the biased environment of gender inequality.
This propelled a desire within to find her voice, speak up and sculpt a new world for herself and others, devoid of inequality, violence, discrimination and outdated social structures.
She goes in favor of the irregular and curvilinear that welcomes questions and doubts from inquisitive minds about the existing state of affairs.
Among such are the wall installations "U, U, U & ME, ME, ME" in which Liu explores the essence of interpersonal relationships. The "Mala Leche (bad milk)" series sees Liu speculate on the nature of being a human, and "Undergo," a series in which the artist remarks on the purifying and upbringing power of struggle and pain.
Liu Xi's wall installation series "U, U, U & ME, ME, ME"[Shanghai Daily]

Advancing on her journey of breaking through the stereotypical, Liu also creates a series of sculptures "Where Are We Now?" The basic three-dimensional shapes, such as cubes, spheres, cylinders, pyramids and cones, are "wrapped in fabric" as if intentionally hidden by the artist.
In her hands, ceramics acquire sinuous curves and voluptuous shapes that appear to run fluidly into clusters of delicate formations. Her intimate pieces echo with the Rococo heritage of porcelain, yet re-imagined and informed by the meticulousness of Chinese porcelain techniques and traditions.
With every twist and curve of her creations, there is an urgent need to reflect upon her life experiences, the blissful moments of enlightenment and the feelings of entanglement, extorted from the fearless yet painful process of facing herself.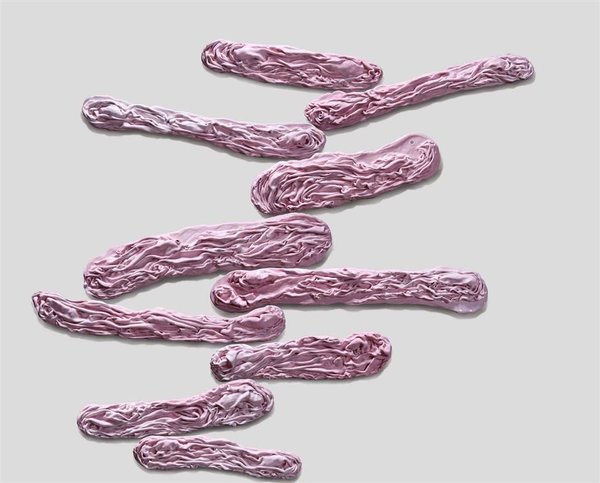 Liu Xi's "Mala Leche (bad milk)" series [Shanghai Daily]
(Source: Shanghai Daily)