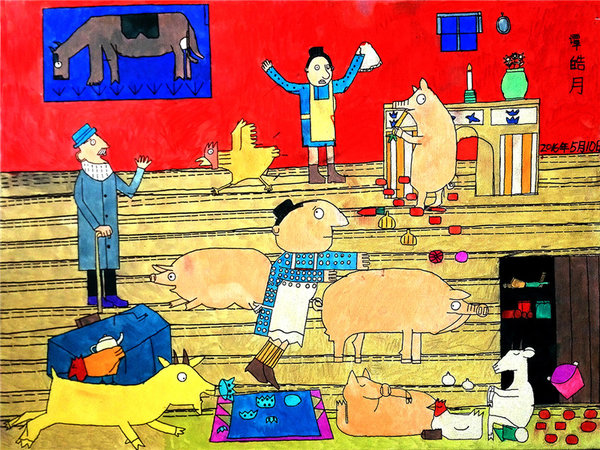 An artwork with straight lines and bright colors by Tan Haoyue. [For China Daily]
Organization helps talented painters overcome challenges of life to draw their own future.
In terms of making an impression, three works at the entrance of 5 Colours Foundation's booth at the 2019 Art Chengdu International Art Fair could be described as impressionist.
The portraits by Xie Xinxin were truly eye-catching. Their bold colors, bouncy strokes and expressiveness seemed to almost demand attention.
The love and happiness they exuded came from her flamboyant depiction of an old couple and a man whom she imagined with green hair.
Another work was a standing bird where details captured the eye and riveted the viewer. The background was smeared with simple colors, the bird was drawn with dots and lines - short and long, floating and curly - and the colors showed contrast and meticulous layering.
Her drawing teacher, He Linlin, says the painting shows her distinctive techniques in dealing with point, line and plane, which embodies her sophisticated painting language.
Xie, born in 1988, lives with cerebral palsy and amentia due to a difficult birth. Her paintings highlight the vibrancy of color. She took up the brush as a child and her style reflects her ability to transmit her energy onto the canvas.
An artwork by Zeng Liaoying. [For China Daily]
Aware of Xie's talent since childhood, her mother, Xu Yujiang, found teachers for her and took her works to exhibitions and competitions before getting in touch with 5 Colours Foundation, a charity aimed at helping people with physical and mental challenges, in 2013.
The organization, founded after the magnitude 8 earthquake hit Wenchuan, Sichuan Province, on May 12, 2008, was initiated by influential contemporary painter Zhou Chunya to help children who suffered injuries in the devastating quake to use art and painting to aid them on the road to recovery.
It later expanded its remit to helping people living with mental disability. Some of the students made their way to university, studying art-related majors, and the organization helps them with tuition fees and painting materials.
They are given skills to make a living by creating their own collections or doing work related to painting after graduation.
The move also benefits their family, according to Zhou, as they see the progress made and the talent revealed.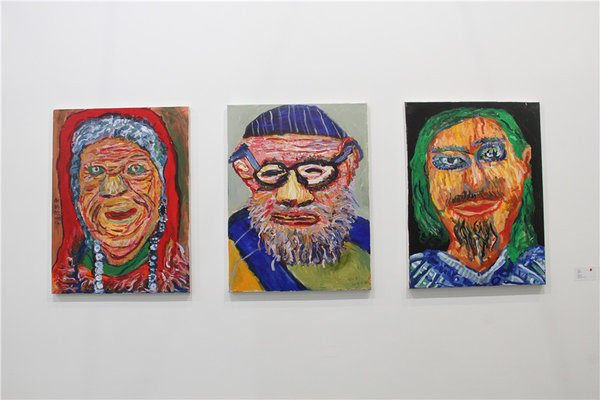 Three portraits by Xie Xinxin. [For China Daily]
A powerful idea
Over the past 10 years, the organization has helped 397 students in 16 locations, including Chengdu, Dujiangyan, Hanwang and Dayi in Sichuan Province and Chongqing, Yushu in Northwest China's Qinghai Province and Nantong in East China's Jiangsu Province. A dozen of them have been to college and some have graduated, got a job and married.
Zhang Jun, secretary-general of the organization, knows that the commitment to helping these artists never ends.
Some of the current students have been with the organization since the very beginning.
Zhang initially struggled with whether to help more students or stick to the current scale, and, whether to start a designated school, or just work with local special schools and welfare institutions.
He chose the latter.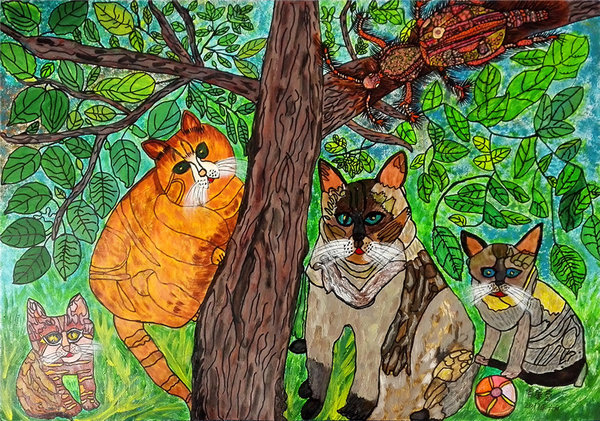 An artwork by Zeng Liaoying. [For China Daily]
Zhou, as one of China's top contemporary artists, whose works can often fetch tens of millions of yuan in auction, values above all else the teaching quality and the stress on professionalism.
The organization has 16 staff members in total. The teachers are mainly artists who graduated from fine arts institutes in Sichuan and Chongqing, and have been creating their own works alongside the teaching.
Ren Fei, who started working there in 2015, says the situation is of mutual benefit.
As well as selecting books and other materials for reference, the teachers have developed a system of teaching based on a set of textbooks that Xiong Wenyun, artistic director of the organization, compiled in 2005 before joining the team. She made some changes and applied her theories into the education of the disabled, and, depending on students' personal condition, techniques used by adult painters would be gradually taught.
This approach focuses on the individual and it has paid dividends.
An artwork by Zeng Liaoying. [For China Daily]
The core of the system is that the students do not make changes once they start drawing a picture.
Liao Yaoyao, one of the organization's earliest students, says that they were kept away from erasers at the beginning, or asked to draw with needle pens to cultivate their self-confidence.
The teachers want to protect creativity and encourage students to find out their individual interests and develop their own styles. This translates into more powerful work.
Despite her polio and epilepsy, Zeng Liaoying, 36, started to learn painting with He in 2013. She's created hundreds of works since, mostly of insects and cats. Each work has exquisite detail and imagination.
Zeng works as a cleaner for a living and has devoted most of her energy and enthusiasm to painting.
Tan Haoyue, 23, has a unique perspective when observing things. Fond of sports, the young man, who has autism, utilizes straight and right-angled lines, like those on a sports field.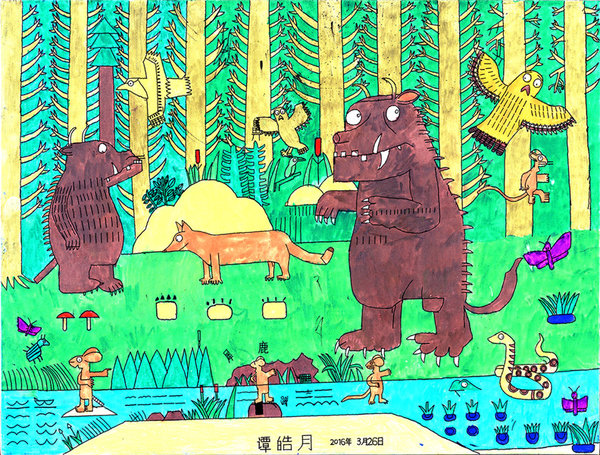 An artwork with straight lines and bright colors by Tan Haoyue. [For China Daily]
Liao, who, at the age of 15, lost both her legs in the quake, works as an illustrator and is focused on using colored pencils.
She met Zhou when he and a group of Sichuan artists visited the victims of the disaster at the rehabilitation department of West China Hospital of Sichuan University in Chengdu and soon started learning with the organization.
Since she became interested in colored pencils at college, the teachers helped her with suitable themes and techniques.
She now earns around 3,000-4,000 yuan ($434-579) per month, the average level of new staff in her company.
Many of the works created by the students reflect local characteristics and the culture of the ethnic groups they belong to.
An artwork with straight lines and bright colors by Tan Haoyue. [For China Daily]
Two-way process
At the beginning, communication with students was difficult for art teachers like He.
Now that she has been with them for nearly six years, she knows them well and still marvels that they're able to interpret images in their own styles and have the ability to be creative and express themselves.
And the students inspire her in turn.
She recalls the first time she dared Zeng to draw on a large canvas that was 1.5 meters in width and 1.2 meters in height.
She says that Zeng answered "I dare" without hesitation, grabbed a pen and started drawing immediately - making no changes from start to finish.
"I wouldn't have the courage to dive in like that," He says.
Zhou says the students' works can also make sophisticated artists think about their own motives.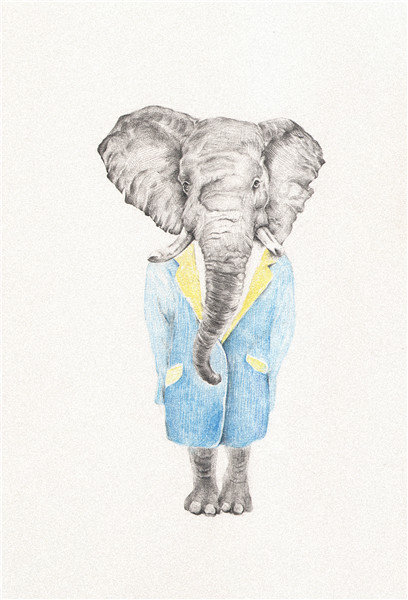 An illustration made with colored pencils by Liao Yaoyao. [For China Daily]
"They're sincere and unaffected by commercial considerations. They simply convey what's in their mind and that should be the original intention of all artists."
One of the students, Gao Hongying, died of spinal muscular atrophy in February 2018. Her work bears testimony to her extraordinary talent. Although she has passed away, her work lasts, revealing valuable fragments of her existence - her bed, the plants she liked, her family and scenes from her daily life.
According to Zhang, their funds stem from Zhou and donations by renowned artists, including Zeng Fanzhi, Zhang Xiaogang and Fang Lijun.
The organization's major expenses are salaries and painting materials. It costs around 20,000 yuan to buy painting materials for one student per year, Zhang says.
The organization has been actively seeking more exhibition opportunities to raise the students' visibility.
Zeng Liaoying depicts cats with lots of detail and imagination. [For China Daily]
Huang Zai, co-initiator of Art Chengdu International Art Fair, was among the earliest volunteers of the foundation.
A college student back then, she went with the artists to the stricken area, donating money and paintings, as well as taking rice and oil.
They also gifted picture books to children at the rehabilitation department in hospital and asked them if they wanted to learn painting.
Students attend a class in Chengdu, Sichuan Province, under the guidance of a teacher from 5 Colours Foundation, a charity helping people with physical and mental challenges. [For China Daily]
After discussing the idea, Zhou and Huang decided to celebrate the 10th anniversary of the organization by creating a special part of the Art Chengdu event instead of just holding an exhibition at a gallery, because the event is more open to the public.
According to Zhang, the organization has been working with its counterparts in countries like France, Singapore and the United States to hold exhibitions and to discuss better ways of teaching.
They will also have a touring exhibition in South Korea soon, Zhang says.
(Source: China Daily)