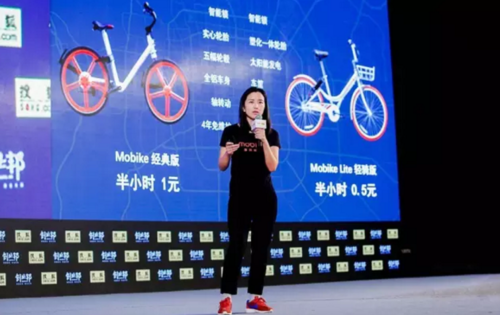 Hu does a presentation explaining the mobike design. [Quan Linmin]
Hu Weiwei, the founder of a unicorn bicycle start-up, met face to face with Chinese Premier Li Keqiang and other top leaders, core scholars, and A-list entrepreneurs on January 13, sharing her own views on the combination of e-commerce and real economy.
Hu was born in 1982 in Dongyang, a city of east China's Zhejiang Province. She worked as a journalist for a number of years after graduating from the journalism department at City College of Zhejiang University in 2004 but would later make a cross-sector career shift, starting her own business: "Mobike." In October 2015, Mobike embraced a number of rounds of fundraising within a very short period of time, setting itself apart from its rivals as a cutting-edge corporation and making Hu a forerunner in emerging business circles.
At GIF2017 (Geekpark Innovation Festival), on January 13, 2017, it was revealed that after nine months in operation, Mobike had rounded up a community of some 10 million users across 12 Chinese cities and hailing from 151 countries around the world.
The formal meeting attended by Premier Li and other political VIPs was aimed at collecting opinions, ideas, and advice for the annual Government Report. In addition to Hu, six other experts and entrepreneurs from elite universities and major business groups were also invited.
At the meeting, Hu's speech in particular caught the attention of Premier Li. After learning some basic information about her company, its increasing production, and enormous popularity, the premier was told more about the revolutionary aspects of Mobike, whose products are referred to as "Internet Plus Transportation Vehicles"— a new-age means of getting around.
Afterwards, the reported numbers — namely, the large-scale demand for bikes — gave rise to a new topic of discussion, centered on the transformation of old and new kinetic energy. "The development of the emerging service sector has created an enormous market space for the manufacturing industry," said Premier Li, emphasizing e-businesses' leading role in the real economy. "You're running a promising bicycle enterprise in prosperous fashion," Li further praised.
In addition, Premier Li further advised Hu to export this mode of transportation to Copenhagen, where bicycles are popularly — if not universally — used. "It may drive China's manufacturing industry abroad," said the premier.
"Copenhagen has already invited us!" said Hu instantly and excitedly. "Driving Chinese manufacturing around the globe is one of our most important goals."
At the closure, Premier Li acclaimed Hu again by alluding to her work as a "spring breeze" relative to the emerging industry and then extended his thanks to her business group.
After the meeting, Hu posted on her WeChat — a Twitter-like social-media platform — expressing her gratitude for the national leaders' support in emerging businesses and entrepreneurship. Meanwhile, she also stated the importance of innovation and talents and expressed her wishes for the changes that the power of technology may bring to people's lives.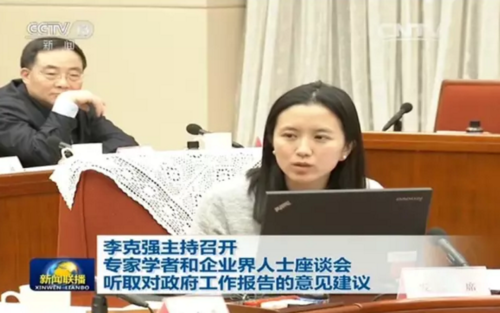 The conference was broadcast live on Xinwen Lianbo, one of China's vital news channels. [Quan Linmin]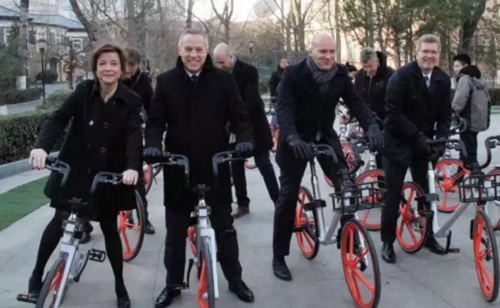 The Danish minister, the mayor of Copenhagen, and the Danish Ambassador to China ride Mobikes together in Beijing. [Quan Linmin]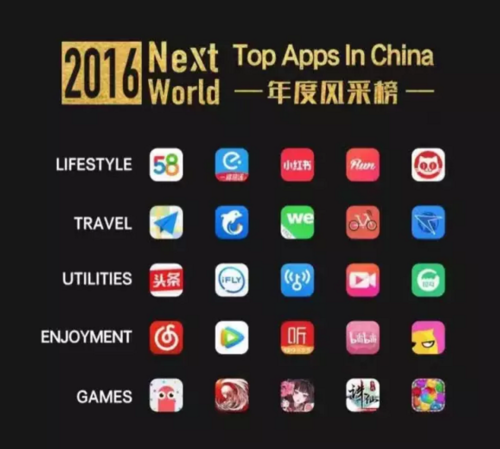 Mobike was nominated among the 2016 Top Apps in China. [Quan Linmin]
(Source: Quan Linmin/Translated and edited by Women of China)