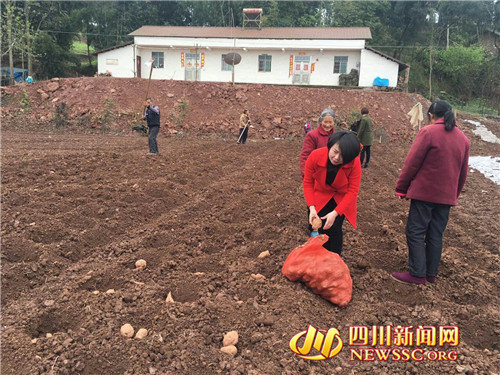 Huang Xiaoyan (front) [newssc.org]
An enterprising woman from a small rural village in southwest China's Sichuan Province has developed her own profitable business by growing organic sweet potatoes over the last four years.
Huang Xiaoyan, 35, from Jiuxing Village in Anyue County, has also played an active role in leading impoverished farmers from 12 neighboring villages, as well as those nearby into prosperity since 2013.
Due to her inspirational example as a new generation of skilled farmers, she is commonly referred to as the "sweet potato sister" by local people.
Embarking on a Journey of Entrepreneurship
When she was 17, Huang and her father left their hometown for the city of Guangyuan in Sichuan to engage in the processing of sweet potatoes.
In the following 10 years, she went to many places including central China's Henan Province, purchasing sweet potatoes to make vermicelli and starch.
"At that time, the raw material was quite adequate and the business was popular with customers," Huang said.
However, with rapid development, the quality of the sweet potatoes purchased became worse, which greatly affected the sales volumes, Huang explained.
An idea suddenly occurred to her: "Why not grow sweet potatoes on my own and then do the processing trade?"
Hence, the decisive woman went back to her village in 2013, starting her path of entrepreneurship. "I introduced a special variety of seed from Henan, making an attempt to grow organic sweet potatoes from the start after I'd rented 13 hectares of land."
Beyond her imagination, she received double the earnings with more than 3,500 kilograms of yield per area in comparison with conventional planting methods.
Being excited about the first year's harvest, Huang stepped up her efforts to expand by signing land contracts with local villagers. Meanwhile, she also positively led the people to grow different kinds of organic sweet potatoes to meet customer's various needs.
"Nowadays, there are nearly 2,000 hectares of sweet potatoes planted, including mine and other villagers', which has made use of every part of a mountainside."
Helping Impoverished Farmers Increase Incomes
Due to Huang's success, she has become a famous figure in her hometown and the neighboring villages for bringing hope to a vast number of poverty-stricken farmers.
"More than two million yuan (U.S.$ 290,360) was invested into contracting around 13 hectares of land at that time. In order to encourage fellow villagers to plant with me, I signed an agreement with them to ensure their interests if the harvest was not ideal."
Now, many villagers who have joined her rank have become large growers, the woman said.
"Huang Hui is one of them. He used to grow a common variety of sweet potato. Thanks to my advice, he began planting the seeds that I provided. In that year, the yield of per area for him went up to 4,000 kilograms," the woman recalled.
Meanwhile, he got an additional revenue of over 10,000 yuan (U.S.$ 1,450) last year.
Aside from receiving rent through land transactions with Huang, villagers can also work at her planting base and earn around 5.5 yuan (U.S.$ 0.80 cents) per hour. They can earn up to 2,000 yuan (U.S.$ 290) in a month, Huang stated.
"The quick-witted woman sheds light on the impoverished villagers while facilitating regional development," according to one local resident.
Li Jiuxiang, a woman from a poverty-stricken family in the local region, has supported her family on her own for many years as her husband suffers from a serious illness. In 2013, under the recommendation of Huang, Li began growing sweet potatoes.
As a result, her family's financial condition has improved, with nearly 30,000 yuan (U.S.$ 4,355) in earnings last year.
To inspire villagers to join her, Huang has provided many with free seeds. In addition, she has also given 20 percent of the total profits to members of her cooperative as dividends. Last year, each household gained an extra 1,000 yuan (U.S.$ 145).
Huang remarked her sweet potatoes can be grown in two seasons annually. Most of the fresh products have been sold in farmer's market such as in Beijing, Shanghai and south China's Guangdong Province as well as northwest China's Xinjiang Uygur Autonomous Region.
Keeping Confident of Future Business
The latest generation of professional farmer is the main force of current agricultural construction and it is also a key pillar to building "new rural villages", say experts.
When attending a panel meeting held by delegates from southwest China's Sichuan Province, Chinese President Xi Jinping said more efforts should be made to cultivate farmers who are enthusiastic about agriculture and have a good command of techniques.
At this year's recently-concluded "Two Sessions" meetings, Han Changbin, minster of agriculture, said farming will be a desirable profession for people who are willing to take up such a path in the future.
According to predictions issued by the Ministry of Agriculture, the number of new generation professional farmers will be up to 20 million by 2020.
After witnessing greater importance being attached to developing agriculture in recent years, Huang said she is full of expectation and confidence in her future business.
"In the years to come, I hope the scale of growing sweet potatoes can reach 66,700 hectares, with a production value of billions." Currently, her company has invested around 2,850,000 yuan (U.S.$ 413,823) into building seven repositories, which can accommodate over one million kilograms of fresh sweet potatoes.
According to Huang, her future plan is to develop her own agriculture sightseeing business, attracting more and more people to tour the local region so as to further raise incomes for villagers.
Due to her contributions, she has received the title of the 10th National Rural Region's Youth Foregoer in Prosperity and the National March 8th Red-banner Individual award in recent days.
(Source: newssc.org/Translated and edited by Women of China)