Wang Qiuhong(R) [xinhua]
The lives of female business entrepreneurs abroad are arduous but colorful. Some fight alone in turbulent environments, some create a new world with their foreign partners, and some become wave riders of fashion... They are realizing their dreams as they always knew what they wanted.
Weal and Woe on Battlefield
Wang Qiuhong, a 42-year-old woman who runs the only Chinese restaurant in Afghanistan, likes singing in an antiphonal style with her Afghan friends while doing chores. "It adds fuel to our work," explained Wang.
Wang came to Kabul, the capital city of Afghanistan in 2005 and opened her restaurant in 2007. "I had nothing then, and saved coin by coin to create today's restaurant from finding a good location to hiring cooks, preparing tableware and picking recipes," she reminisced.
Over the past 10 years, Kabul's security situation has deteriorated day by day due to intermittent anti-government armed forces. Incidents including assault, explosions and kidnap became increasingly common. "Chinese residents left and soon we ran the only Chinese restaurant in town. We also adjusted ourselves to food delivery services for safety," said Wang.
"Many people would ask me why I insisted on staying, I just thought that since I am already here, I should keep up my work and not give up so easily. I am also reluctant to leave my Afghan staff and friends, who have kept me company for 10 years," said Wang.
"As we have barely been making ends meet, I haven't given my staff a pay raise in two years. Even so, we've stayed together. I would do whatever I could to help them if they were in need, like if they were sick or needed money to get married," she added.
A friend of hers called Ramazan is a perfect example. Working at the restaurant since the age of 18, he is now a father of two as well as a master of both Chinese and Chinese cooking. In 2014, Wang even took Ramazan to see a doctor in south China's Guangzhou, as he was wounded by a gunshot when he was young and couldn't walk very well.
Seven other members of staff in her restaurant also have great skills after learning from Wang. "Now they can make dumplings, hotpot, and their dishes taste better than mine," she claimed. They also cleared a piece of land from the backyard to grow vegetables by themselves.
As always, Wang looks forward to a better national situation in Afghanistan, so that she can earn more money and can afford to visit her parents more regularly.
A Good Wife, a Good Principal
Another woman also surnamed Wang has settled herself in Kampala, the capital city of Uganda. In the 1980s, Wang Lihong, then a student at Tsinghua University, met Ugandan international student Ayub in her campus and he later became her husband.
Local Ugandans would amiably call her Principal Wang, as she established a Luyangzi Middle School there.
Sinomania emerges everywhere around the globe in the process of globalization, and so it is in Uganda. As the only middle school with Chinese characteristics approved by the Ugandan Education Department, Luyangzi is extremely famous in the local area.
"Sometimes the intense workload makes me tired, but I always feel happy and satisfied when I see the students making progress," said Wang.
Two impish students who tore down the classroom windows and jumped outside, for which they should be expelled from the school, were surprisingly encouraged by Principal Wang. "The kids corrected their mistakes and finally got into college, which was something their parents would have never believed," said Wang.
Some people hold stereotypes of Africa. However, the colorful African culture is a source of fun to Wang. "Students' progress, my husband's care and the culture shock with African people have become the source of my happiness," said Wang. "I feel just like fish in water in the education field."
Wave Rider Who Is Not Afraid of Cross-sector Career Shift
From being an overseas student in Germany to a gold-collar worker at Wall Street, to a student at Parsons School of Design, one of the most famous design schools in America, Hu Yuanyuan, a woman from east China's Anhui, has made a series of leaps. She has now become the boss of Vivienne Hu, a fashion startup located in downtown New York, where the fashionistas gather, setting up her own brand and fashion ideology.
Studying design is hard work, but Hu thinks she's arrived at a good time: "The links between China and international society in various fields is getting closer and closer, and now is the best time for Chinese design to cut a figure on the international stage."
"Chinese fashion is in an ascendancy and the Internet has largely lowered its communication threshold and demonstration cost, providing unprecedented chances and conditions for newcomers to challenge authority in this circles," Hu stated.
At present, Hu is actively preparing to launch Vivienne Hu's flagship stores in Shanghai. "Whether in government policy or the general population's enthusiasm, the current environment is extremely favorable for design talents."
Featuring a capable, bright and clear style, the dresses designed by Hu have attracted numerous fans, including well-known Hollywood divas. "I want to highlight women in the new era, who are independent, sexy and who work like men," she stressed.
Just like designer Hu Yuanyuan, businesswoman Wang Qiuhong and educator Wang Lihong, more and more Chinese women are running their own businesses, fulfilling their dreams overseas and never slack off.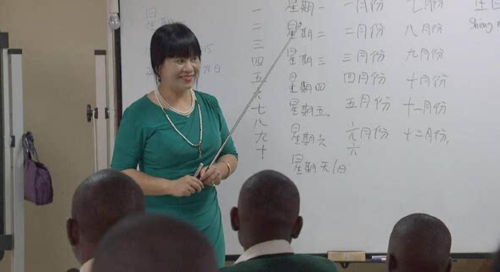 Wang Lihong [baidu]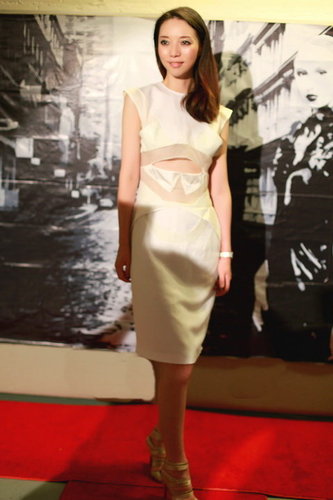 Hu Yuanyuan [baidu]
(Source: acwf.people.cn/Translated and edited by Women of China)