Hu Weiwei speaks during an interview. [cnwomen.com.cn]
Hu Weiwei, founder of China's leading bike-sharing service provider Mobike, gave answers in relation to the public's concerns about the safety of users' returnable deposits in its account, heated competition from other rapidly-growing players for market share, and the introduction of draft regulations over bike-sharing services during a recent interview.
Hu and Mobike became famous overnight when she officially established the service in April 2014. Mobike has managed to stand above the rest and become a clear market leader with 3.1 million active monthly users and a 72.5 percent market share as of December 2016.
Many labels, including Mobike Archbishop, Goddess Entrepreneur and Literary & Artistic Young Woman, have been imposed upon Hu since her business venture enjoyed instant fame. However, some media often distort her points of view in their coverage or even never interview her personally before writing an article about Mobike.
For instance, it is reported that she would rather view Mobike as a charity program if it failed. Hu replied that such a report wasn't correct actually.
"During talks with my potential investors from the very beginning, I said to them that our bikes are still on the roads and can be as beneficial as usual to our users just like a charity project, even if the bike-sharing scheme fails," Hu explained and emphasized that only through success in the project's implementation can she contribute more to charity affairs.
In response to rumors connected to its management of users' returnable deposits, Hu and Mobike announced that China Merchants Bank is entitled, in accordance with an agreement between them, to independently supervise Mobike's banking account related to users' deposits. They pledged that the firm has never utilized those capitals. She added that the upgraded technology has allowed users to withdraw their deposits at any time and experience improved services.
Hu said that the pouring of huge capital into the bike-sharing sector and the introduction of promotional measures by different players are very normal and are conducive to building closer ties with their customers. She also pointed out that involved providers with the best services are expected to beat down all other contestants in the field.
Hu noted that Mobike is willing to hold interactions with supervisory departments, listen to their opinions about urban administration and help them learn more about its business operation, when asked about how to better manage its business against the backdrop of tougher regulations on bike-sharing services introduced by local authorities in Beijing, Shanghai, Shenzhen and other cities.
She hoped all concerned sides could work out an innovative solution to cope with newly emergent problems amid the growth of the bike-sharing industry in the future.
Shared bikes park at a recommended site in Shijingshan District of Beijing on March 17. [Xinhua]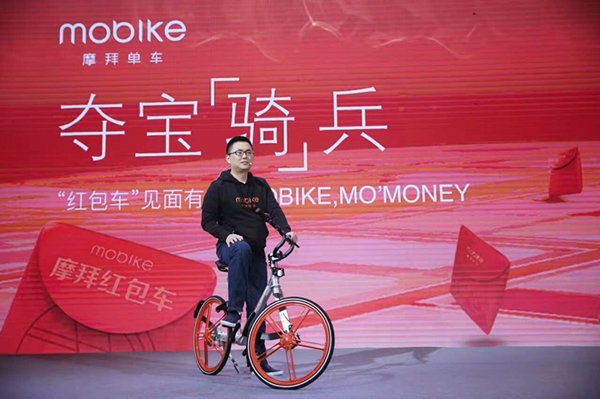 Public bike-share company Mobike launches its new red envelope service at a press conference in Beijing on March 23. [China Daily]
(Source: cnwomen.com.cn/Translated and edited by Women of China)