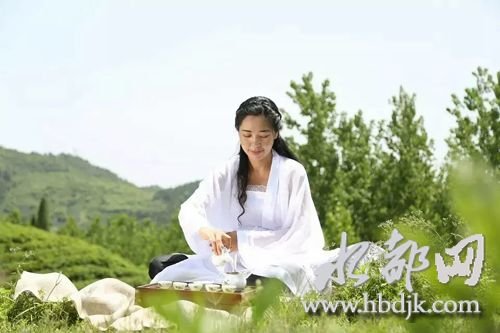 Wu Hongmei makes tea in her tea plantation. [hbdjk.com]
Wu Hongmei, a woman of the post-80s generation from a mountainous village in central China's Hubei Province, has successfully transformed herself from a rural migrant into an owner of a prospering tea estate in just a decade, whilst leading local farmers to jointly become rich with their tea businesses at the same time.
Just like many young people in her hometown, Wu went to Shenzhen, a coastal metropolis in south China's Guangdong Province, and found employment there ten years ago. After a while, she chose to return to Qingmo Village at Langhe Township in Danjiangkou City, when several entrepreneurs from southeast China's Taiwan Province opened an agricultural firm engaged in tea processing in her birthplace in 2006.
Wu has maintained high enthusiasm towards tea cultivation and commercial activities from her childhood. Her task in the enterprise was to pick tea leaves at the very beginning and later she began to take part in the sale of tea products and business management.
Because of various problems, however, the firm faced closure in 2013. Wu successfully raised an amount of capital to purchase the enterprise's tea plantation and registered it as her own company Danjiangkou Shenghe Organic Agricultural Development Co. Ltd., since she couldn't bear to see the promising tea brand she had nurtured for years die away in this way.
Back then, Wu and locals gradually accepted the concept of organic agricultural goods, which they believed would be popular amongst the public in the future. In addition, her former employers had already rebuilt the tea plantation, set up standardized processing workshops, and gained certificates for its organic tea cultivation and other businesses. All those circumstances laid a solid foundation for the success of her future business.
After that, Wu set up Shenghe Tea Professional Cooperative, which allows her to unite local farmers together in the struggle for larger profits in the sale and processing of their tea. Locals can choose to sell their unprocessed tea to the cooperative at a relatively higher price or ask it to make a further processing for them. Statistics show that either model of processing has increased the income of tea planters there.
Furthermore, Wu often invites professionals to lecture local farmers about how to manage their tea farms with scientific methods and better adjust themselves to the modern market. All those measures have greatly increased both the quality and quantity of local tea, she said.
So far, a total of 128 tea plantation households have joined the cooperative and more than 200 families have maintained closer business ties with the business venture. The cooperative has operated its tea cultivation in 8,600 mu of farmlands and processed three brands of tea with a yield of 100,000 kilograms per year.
Wu said to reporters during a recent interview that she will construct 700-mu high-level tea farmlands and equip them with modern service facilities, including hotels, restaurants, shopping centers and leisure places, in the near future. In addition, she plans to make a combination between a rafting business in the local canyons and her tourism-oriented tea plantation, with the aim of promoting the development of local agricultural business, upgrading its business structure and helping more farmers to become prosperous.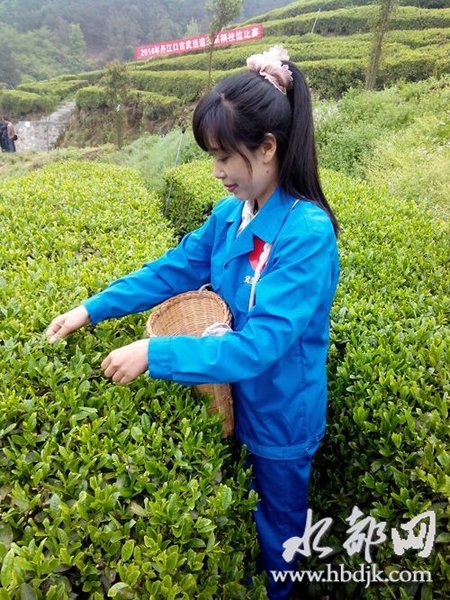 Wu Hongmei picks tea leaves in her tea plantation. [hbdjk.com]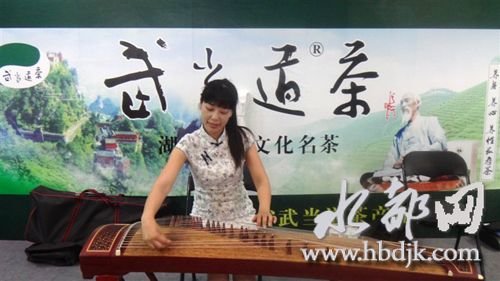 Wu Hongmei plays Chinese zither at an exhibition on tea products. [hbdjk.com]
(Source: cnwomen.com.cn & hbdjk.com / Translated and edited by Women of China)