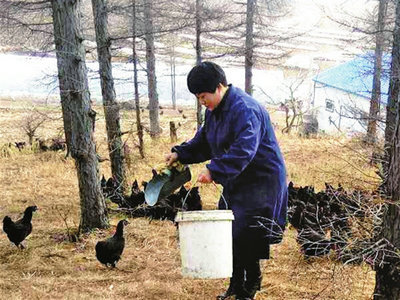 Ji Liwei [cctv.com]
Self-made entrepreneur Ji Liwei found success thanks to her quick mind and years of unremitting efforts to develop a poultry breeding business in northeast China's Jilin Province.
Returning to Hometown to Start a Business
After graduating from middle school in 1997, Ji left her hometown, a village in Dengta Town, Liaoyuan City, to find her fortune and improve her impoverished family's financial condition.
In the following years, she opened three restaurants, which were all shut down in succession due to bad management.
In 2004, she turned her sights on a real estate agency. Two years later, she established her own company in Suzhou, a city in east China's Jiangsu Province, becoming a prominent figure in the local business circle.
As Ji became more and more prosperous, she said she began pondering whether she should go back to her hometown to do something positive for local poverty-stricken villagers or not.
Experiencing several sleepless nights, she made up her mind to return where she was born to start a new career.
In 2010, she raised around 1.8 million yuan (U.S.$ 265,996) to set up a chicken farm in Longbei, a village in Liaoyuan. Believing the poultry business had bright prospects and wanting to learn how to raise chickens, the ambitious woman mastered the skills within merely two months.
At that time, she and her infant child lived frugally for the purpose of quickly acquiring breeding methods, Ji said.
Due to her hard work and elaborate management, her farm raised around 100,000 chickens in the first year, earning over 1.2 million yuan (U.S.$ 177,331).
Developing an Ecological Cycle Breeding Industry
Thanks to the support provided by the local women's federation, Ji established a professional breeding cooperative in 2011. Therefore, she actively called on local farmers to join her rank of raising chickens to shake off their disadvantaged lives. She offered them chicks, feed and breeding advice for free.
After running her business for two years, she had up to 50 members in her cooperative, all of whom gained an average income of 50,000 yuan (U.S.$ 7,388) since they worked there. Meanwhile, she has led around 200 local villagers to find jobs in her cooperative.
In recent years, the corn grown by local villagers has all been used for feed production while the chicken manure is used to cultivate the soil, which has reduced the amount of chemical fertilizer. Ji says her business has been developing toward eco-agriculture step by step.
Some time ago, the woman was beset by another problem about how to deal with the large quantity of chicken manure, which seemed "inexhaustible".
To solve the problem, Ji left for south China's Guangdong Province at the beginning of 2015 to learn an earthworm-breeding technique, bringing around 100 kilograms of young earthworms to her farm.
About five months later, she found chickens that were fed earthworms proved to have higher nutritional value than others.
Ji maintained she is delightful that her dream of developing the ecological cycle of the breeding industry can be realized by virtue of her diligence and perseverance.
Taking Advantage of Internet
Ji took part in a female entrepreneurship training course in Peking University in Beijing in 2015.
Drawing inspiration from the training, the quick-witted woman turned to e-commerce platforms to develop her own business the moment she came back from Beijing.
Aside from this, Ji created a new sales model, asking each member in her group to raise two hens whose eggs are sent to a customer at regular times. "It is great to spend around 1,000 yuan (U.S.$ 147) eating fresh eggs all year round," a customer commented.
The personalized sales pattern has become quite popular on the Internet, achieving more than 2 million yuan (U.S.$ 295,551) earnings within five months, Ji said.
To date, Ji has 3,000 annual-card clients online as well as over 10,000 retail customers, with total revenues reaching 12 million yuan (U.S.$ 1.8 million).
As for the future, Ji said she plans to enlarge the scale of her business and make some adjustments in breeding structure.
Due to her inspirational story, she was named one of Jilin's March 8th Red-banner holders last year.
According to Jilin Women's Federation, it has set up an entrepreneurship alliance this year to attract more female returned migrant workers to start their own businesses in their hometowns.
More and more migrant workers have been contributing their endeavors to the development of economic growth in different parts of the province, the federation indicated.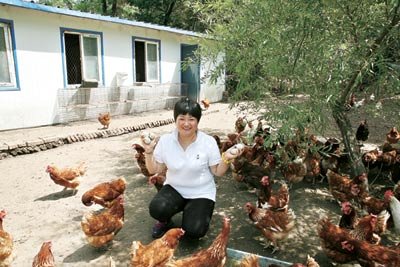 Ji Liwei shows "earthworm-eggs" at her farm.
(Source: cctv.com/Translated and edited by Women of China)