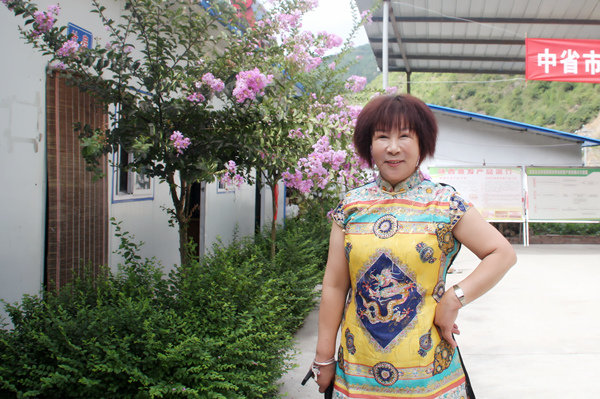 Wu Wenfang [xbfzb.com]
"The best way to repay society and the people around me is by responding to the government's call and doing some down-to-earth things for our poverty relief cause," said Wu Wenfang, a rural entrepreneur with a great love for her hometown.
Wu, 57, owner of an agriculture business in Shanyang County in northwest China's Shaanxi Province, has been dedicated to raising local farmers' incomes through her booming cattle breeding business over the past three years.
Starting Business, Helping Villagers
Machines roar in Wu's silage factory. Outside is the hustle and bustle of villagers and vehicles whizzing in and out, carrying freshly reaped corn stalks to the factory in a steady stream.
"This is cattle feed grown by farmers of nearby villages at fixed fields," Wu said.
Before starting their firm, Wu and her husband ran a construction company and contracted over 40 projects such as hydropower stations, bridges, roads and buildings. During that period, the couple mobilized more than 200 local villagers to join them.
In 2014, after they accumulated experience and saved some money, Wu and her husband decided to do something for their hometown.
"I grew up in a village so I know the sweet and the bitter sides of rural life. My hometown's backwardness and poverty have always been a concern for my husband and me," Wu said.
After their return, the enterprising couple spent 18 million yuan (U.S.$ 2.75 million) building an eco-friendly breeding park on the doorsteps of their home and opened a new company.
"As long as you work hard and are able to endure hardships, you can do a breeding business well," she added.
In the beginning, Wu visited many industrial parks in the province with her husband to learn breeding and development.
They then built up cooperation with the local Northwest Agriculture and Forestry University.
Under the university's technical support, they have built a forage grass planting base, an organic fertilizer processing workshop and a meat products deep processing factory, establishing an ecological industrial chain.
To date, the couple have set up five factories, two industrial parks, two bases and 13 cooperatives, which in total realize an annual profit of 20 million yuan (U.S.$ 3 million)
Moreover, their business has solved the employment problem of over 150 villagers. Of them, 42 come from poverty-stricken families and one third have physical impairments.
This year, Wu's company signed agreements on grass planting of 4,810 mu (320 hectares) with 1,500 households from 28 local villages. Of them, 830 currently live in poverty.
The signing is expected to bring over 3.3 million yuan (U.S.$ 505,500) of annual extra income to local farmers.
"We set our goal to help our fellow townsmen shake off poverty since the very beginning," Wu remarked.
"Except for our technical staff, we consider local villagers from impoverished households first when recruiting employees."
Now the scale of Wu's business has ranked first in the industry in the southern region of the province.
She added: "As long as I am running my company, I'll keep helping villagers!"
When talking about her future plan, Wu said: "I'll continue to expand my breeding scale, provide various forms of assistance and do my best to help boost the development of my hometown."
"I'll lead my fellow villagers to achieve moderate prosperity together."
(Source: sanqin.com;slrbs.com/Translated and edited by Women of China)