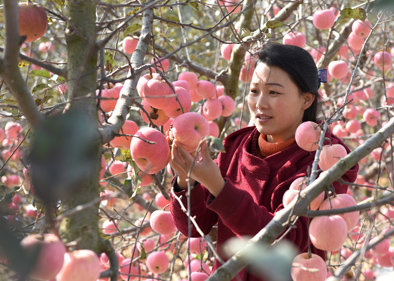 Niu Qinghua [Xinhua]
An enterprising female farmer from east China's Shandong Province has made large profits over the past two years by running an online fruit store.
Niu Qinghua, 34, from Beiyanzi Village in Mengyin County also helped other farmers in her community start their own retail businesses on the Internet whilst bringing job opportunities to disadvantaged households.
Two years ago, Niu was still a typical rural woman. As her husband worked outside the village, she had to look after her children and parents-in-law by herself. She additionally tended to a 20-mu (1.33-hectare) orchard, as well as over 100 pigs, some 40 sheep and more than 200 chickens.
Now, she is a successful entrepreneur. To date, her online store has achieved a total sales value of over 6 million yuan (U.S.$ 910,138).
This February, Niu was elected as a deputy to the People's Congress in the city of Linyi for leading her fellow villagers to achieve affluence.
Engaging in E-commerce
In 2015, the local Party chief invited teachers to train young villagers in Beiyanzi on e-commerce.
"Hearing the news, I was not sure [whether to go] but I still wanted to. After all, such a study opportunity was not easy for illiterate farmers like me," said Niu who had dropped out a year after attending junior high school.
When the training started, it was the coldest time of the year in the mountainous village.
At 8 a.m., after arranging children and seniors in her family and finishing all her farm work, she rode her motorbike for nearly two hours to the neighboring town, studying e-commerce knowledge until 5 p.m.
"There is no pollution in this mountainous region, so the crops tastes good whatever you grow," she said.
"However good our farm products are, if people do not know about them, they will not sell at a good price. So I really wanted to put the good things that my family grew online."
After 10 days' training, Niu mastered related e-commerce knowledge and opened a store on taobao.com.
She selected the best apples from her orchard for online buyers and priced them at 5.6 yuan (U.S.$ 0.85) per kilogram.
"Although I picked up every apple myself, selecting bigger and more beautiful ones, I still had no confidence. Because at that time, the price of ordinary apples in this region was below 2 yuan (U.S.$ 0.3) per kilogram," Niu remarked.
"Unexpectedly, I sold over 10,000 kilograms within weeks! It turned out that specialties in the mountains are really popular."
After the experience, Niu began to consider how to make more outstanding products go beyond the region.
Mengyin County has a long history of growing peach trees which now occupy an area of 650,000 mu (43,333 hectares) with an annual yield of 2.2 billion kilograms.
In 2016, Niu signed purchasing contracts with peach farmers in three nearby villages in the county.
"I promised I would offer to buy their fruit at a price 0.5 yuan (7 U.S. cents) for each 500 gram higher than the market price. But they must use less chemicals and pesticides, and use more organic fertilizer," Niu said.
This time, she paid great attention to transport and after-care service.
"The temperature is hot in summer, so I worried that peaches would go rotten halfway. I wished I could watch the transport all the time," she added.
To reduce loss during transport, she improved packaging, put peaches into ziplock and drilled ventilation holes into boxes.
This way, buyers' satisfaction degree increased constantly, and Niu's store has many regular customers.
Boosting Villagers' Incomes
"My hometown's land has nurtured me, and its specialties made me achieve affluence, so I wanted to do something to give back to my fellow villagers," Niu said.
In August 2016, Niu signed a poverty-relief agreement with 16 poverty-stricken families in her village.
As per the agreement, she will purchase peaches and apples from them at a price 10 percent higher than the market.
Niu also signed an employment agreement with disadvantaged farmers, offering jobs to them and their children.
Moreover, she has held free e-commerce training sessions many times, training over 60 farmers from poverty-stricken families so far whilst helping 18 trainees set up their own online store.
In the past year, Niu has helped nearly 100 villagers increase their incomes by 3,000-8,000 yuan (U.S.$ 454-1,212).
So far, 12 of the 16 households that signed relief contract with Niu have shaken off poverty.
(Source: Xinhua/Translated and edited by Women of China)