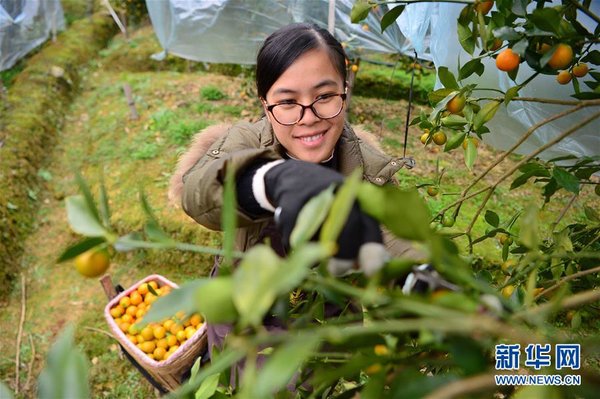 Lai Yuanyuan picks kumquats from trees. [Xinhua]
A young overseas returnee from south China's Guangxi Zhuang Autonomous Region has helped local farmers sell their kumquats through online platforms and create many employment opportunities.
Lai Yuanyuan, 30, comes from a rural family from the village of Fule in Rong'an County.
Like many other people in the village, her parents used to sell their farm produce at a low price since it was difficult for them to reach the market.
Shortly after coming back from her studies in Thailand in 2012, Lai began to consider what she could do to improve the living standards of her community and help them increase their income.
Lai wasted no time translating her idea into concrete actions when she found that their future must rely on e-commerce and the fast-growing express delivery industry.
Therefore, she set up her own online shop and hired technicians to make a brand of local kumquats in 2013.
With improvement of the kumquats' quality, the turnover of her online shop surpassed 10 million yuan (U.S. $ 1.6 million) alone in 2016.
Thanks to her efforts, local people have reached a broader market and become rich in the process of growing their kumquats.
Apart from providing local people with employment opportunities, she has encouraged some young natives to return to Fule and initiate their own business ventures in recent years.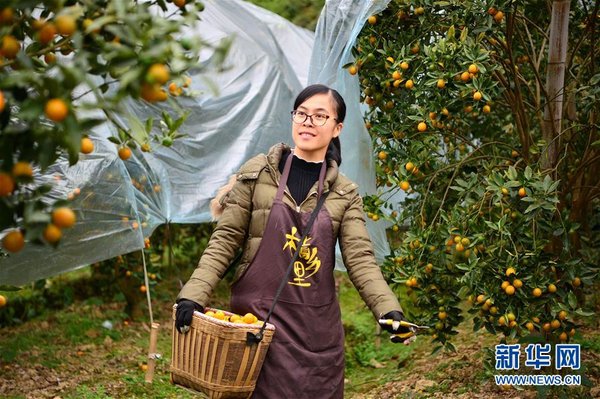 Lai Yuanyuan carries a basket of kumquats in her farm. [Xinhua]
Along with her employees, Lai Yuanyuan (F) packs up kumquats in a workshop. [Xinhua]
Lai Yuanyuan pushes a trailer of her packed kumquats for upcoming couriers. [Xinhua]
(Source: Xinhua/Translated and edited by Women of China)