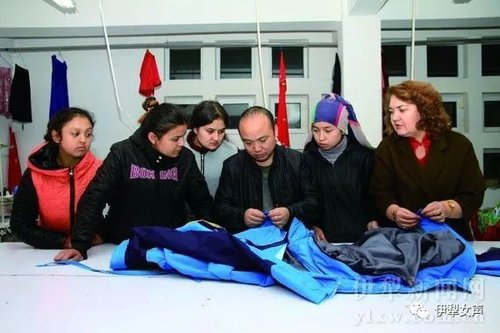 Lu Yousheng (C) and female workers at Sainaiwaer's workshop [ylxw.com.cn]
A laid-off female Uygur worker and a male Han tailor from east China have run a successful clothing business over the past 14 years whilst forming a deep friendship on their entrepreneurial journey.
Sainaiwaer, 46, from Ili Kazak Autonomous Prefecture, northwest China's Xinjiang Uygur Autonomous Region, is general manager of Tannazi Trading Company.
Sainaiwaer is assisted by Lu Yousheng, a senior technician for clothes design and tailoring. Together they have developed their small tailoring store into a large-scale enterprise which offers job opportunities to over 70 people from various ethnicities.
They also provide free tailor skills training to young enthusiasts who come from across the autonomous region.
Establishing Cooperation
In 1997, Sainaiwaer who had worked at Ili Woolen Mill for eight years lost her job.
After then, she began to wander the streets, peddling the textiles that the woolen mill had given her.
In 2002 after saving some money, she opened a fabric store of 15 square meters in the yard of the mill.
While running the store, Sainaiwaer found that many customers made the fabric into clothes, so she began to offering a tailoring service.
Just as she urgently needed a tailor with good skills, she met Lu. Using the fabric that Sainaiwaer gave him, Lu made a suit of clothes that evening.
When seeing his works in the next morning, Sainaiwaer was moved by his sincerity and tailoring skills, so they began to work together ever since.
Expanding Business
Business of her store was not stable, so Sainaiwaer entrusted it to her younger sister's care, traveling across local counties to find business alongside her husband and Lu.
"My husband drove the truck. Lu insisted on asking me to sit in the cab, and he sat on the carrying platform," she recalled.
"There was a lot of dust along the way, and Lu's body was covered by earth."
This way, they visited schools, hospitals and government offices, putting on the samples to let their customers see.
As per buyers' requirements, they worked overtime to finish orders whilst offering home delivery services.
"The clothes made by us have good quality and reasonable price, and we always delivered on time. Therefore, customers gradually increased," she added.
Benefiting from Favorable Policies
Later, Sainaiwaer rented a factory of over 200 square meters in the downtown area, recruiting over 20 employees.
With more and more policies on the reemployment of laid-off workers were introduced, the women's federations in the prefecture and the city of Yining provided Sainaiwaer with financial, technical and management support through ways such as micro-credit loans, and free training and business visits .
The local women's federations also arranged her to attend fairs to help her promote sales, making her company more and more famous.
Sainaiwaer's trading company has now formed a certain scale, having six branches in total.
Offering Jobs to Women
On November 22, at Sainaiwaer's workshop, Lu was teaching workers tailoring techniques as usual.
There were over 30 female employees from the local Uygur, Kazak and Uzbek ethnic groups. Most of them hail from rural areas.
When they had difficulty understanding some technical terms, Sainaiwaer would act as their interpreter.
Though coming from four ethnicities, they are as harmonious as a family.
To date, Sainaiwaer's company has provided job opportunities to over 70 ethnic women, whilst giving technical training to nearly 1,000 young people from across the autonomous region.
Giving Back to Society
These years, Sainaiwaer and her company have been awarded by the autonomous region, prefecture and city-level authorities respectively. That let her feel more social responsibilities.
"I would not have had today's success without the favorable policies of the Party, and support and assistance from the public," she said.
"I got help from other people, so I will also help them."
In addition to joining a local charity organization called Loving Moms, she actively takes part in various public welfare activities, spending several thousand U.S. dollars helping students from poverty-stricken families.
She also formed long-term relief partnerships with 10 disadvantaged children from Gangou Primary School in Bayandai Town near Yining.
(Source: China Women's News/Translated and edited by Women of China)