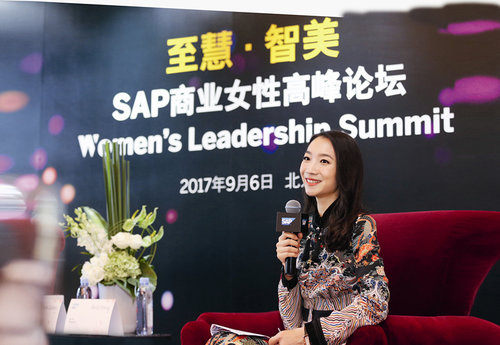 Beidi Sheng [Photo supplid by Beidi Sheng]
Surveys indicate companies are generally more innovative and creative if they have more women among their senior managers, and ultimately, the women will have a positive impact on the company's development, Beidi Sheng told Women of China (WOC) during a recent interview. Beidi, who is the Chief of Staff to the Regional President and Vice President of Communications of SAP Greater China, and who also serves as Chairwoman of the company-initiated Business Women's Network, says professional women in China are living in the best era, which gives them great opportunities to fulfill their career goals.
"Chinese President Xi Jinping mentioned the concept of 'new era' in his report during the 19th National Congress of the Communist Party of China, which concluded in Beijing in October. I think for women, there isn't a better time — than in this 'new era' — for them to start and grow their businesses," Beidi said.
Beidi received her degree from the University of British Columbia, in Canada, and she gained extensive knowledge of IT industry, worked for leading IT companies, including Microsoft, Cisco and Business Objects, before she joined SAP Greater China. She began working in SAP's Beijing office more than five years ago. The network she has built with professional women, both inside and outside of her current company, constantly inspires her to think about effective ways to increase the public's awareness of gender equality and women's leadership.
Beidi says SAP is known worldwide as the world's leading enterprise software provider, but not that many people are aware of the "soft power" the enterprise has been promoting in China, a corporate culture that emphasizes "Diversity and Inclusion (D&I)."
Named one of Fortune's 100 Best Workplaces for Women, SAP Greater China has implemented several initiatives to advance gender equality in the workplace. Since the Business Women's Network (BWN) was established in 2015, the initiative has launched more than 60 workshops, which have formed the Run Happier salons.
"During each workshop, we select female employees who have worked for our company between three to five years. We invite two or three volunteer tutors, who are experts from either the internal or external network of our company. We identify five 'pillars' for this program, which is aimed at improving the female employees' selfawareness, career development and planning, network and branding, capability building, and mentoring and sponsorship," she explained while she discussed the Leadership Excellence Acceleration Program (LEAP).
Beidi is proud of the progress of female employees in her company, as that is a reflection of the progress made by professional women in China in recent years. "In our sales workforce, there is a female sales director who has risen from a first-line sales manager, who used to be an individual contributor, to a director who is currently in charge of 20 first-line sales managers. She was nervous when she shared the experience with her peers. But after taking part in the LEAP workshop, she told me the most important thing she learned was how to build her confidence, compassion and courage," Beidi recalls.
She also talked about the Dress for Success program, through which female employees are given suggestions and advice on how to improve their appearances and communication skills. "The program is becoming popular among our female colleagues. They have come to realize that their images represent their company when they communicate with their business partners. For women who work in the IT industry, it is important to learn how to dress professionally, and beautifully," Beidi says.
Female employees make up 38 percent of the total number of employees with SAP Greater China. More than 30 percent of the leadership team members are women. "On our ELT (executive leadership team), when we discuss our company's strategies, female and male participants make up half and half in our boardroom," Beidi said. It is encouraging to see women and men bring their different perspectives to the decision-making table, she added.
In China today, companies like SAP not only want to be successful, but they also pay a lot of attention to how they give back to society. SAP Greater China works closely with various foundations and associations to help Chinese women become next-generation business leaders.
After the company hosted its Third Women's Leadership Summit, in September this year, under the theme of "Run Smart, Run Beautiful," SAP Greater China and UN Women launched a program, to benefit 100,000 women entrepreneurs and professionals, who will receive training on how to adopt digital techniques and skills to boost their businesses.
"Compared with other countries, China has the highest percentage of women in the workforce. In second- and third-tier cities, women do not have enough access to technologies and methodologies that will enable them to improve their performances. Women may not have a sound enough environment for starting their businesses," Beidi said. With those concerns in mind, SAP is collaborating with UN Women to help women improve their innovative thinking and develop digital skills for starting a business.
Professional women in China, like elsewhere in the world, are playing multiple roles as wives, mothers, daughters and business leaders, Beidi said. They not only need to work in the workplace, they also need to work throughout what she calls "all spectrums of one's life." How can they develop their hobbies? How can they build meaningful relationships with their children? How can they spend high-quality time with their families? Women have to find answers to all of those questions.
Beidi is grateful that her company attaches great importance to giving working mothers the "flexibility" to manage their work hours. "For example, we have a program called Bring Kids to Work. On certain days, our company allows parents to bring their children to the office, where we design engaging activities for the children to have fun, feel safe, and see the environment in which their parents work.
"Mothers are the best teachers for their children. Many children consider their mothers as role models. Given the booming digital technology in China, and the growing public awareness of enhancing women's empowerment, there won't be a better time, than today, for professional women and entrepreneurs to think about how they can perform better in the workplace," Beidi concluded.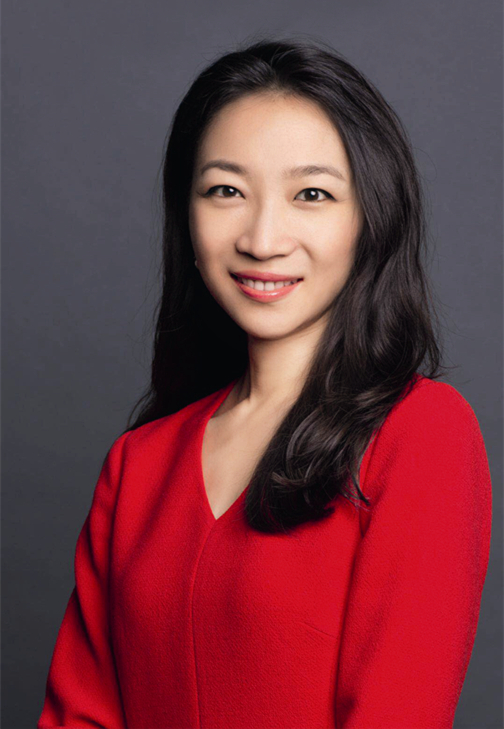 Beidi Sheng [Photo supplied by Beidi Sheng]
(Source: Women of China English Monthly November 2017 Issue)