Zhang Yuan [West China Metropolis Daily]
A caring entrepreneur from Chengdu in southwest China's Sichuan Province has opened a cafe which also provides skills training to people with mental impairments.
After taking lessons at Zhang Yuan's shop, trainees will be recruited as regular staff.
Before starting her business, Zhang was a wine taster and had worked as a volunteer at a local special education school for four years.
Gradually, she realized that care at the school, which was only for under-eights, were not enough to help children long-term.
"How will these special children survive in society when they lose the shelter of their parents and teachers some day?" Zhang wondered.
At that time, there were already public welfare organizations in other countries which trained people with physical and mental impairments in occupational techniques such as making coffee and cakes.
Inspired, the 26-year-old wanted to found a social organization to provide training and employment for such groups.
Zhang quit her job and approached local disabled persons' federation with her idea of running a charity cafe called Second Life.
Under the strong support from the federation, she opened her business in 2015. Soon, over 30 mentally disabled people came to learn baking and skills in making beverages and jam.
Three months later, the cafe opened to the public. In addition to being trained with the skills needed to find a stable job, trainees can also receive part of the cafe's profit as their salary.
Zhang said the name Second Life represents how people with impairments can gain a normal life through work.
Now, Zhang's cafe also sells cultural products such as bookmarks, desk lamps, notebooks and handmade accessories.
She has also worked with factories, printing pictures drawn by the employees on scarves and phone cases.
"Anyhow, we must find a suitable and profitable commercial model. Only in this way can we build a long-term effective and sustainable system to let people here have a stable job," she concluded.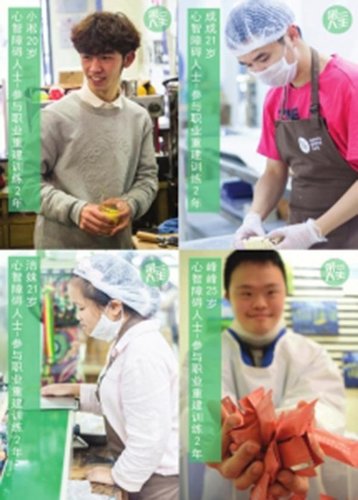 Trainees at Zhang Yuan's cafe [West China Metropolis Daily]
(Source: West China Metropolis Daily/Translated and edited by Women of China)