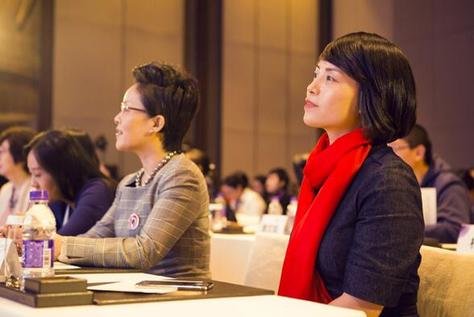 Wang Jing at the event [China Daily]
The 2018 China Business Mulan Annual Meeting kicked off in Beijing on April 14, featuring a lecture by Wang Jing, CEO of outdoor sports brand Toread.
Wang was also presented with the 2018 Annual Business Mulan Award at the event.
Launched by China Entrepreneur magazine, the forum has been held consecutively for the past 10 years.
Wang said: "I knew nothing about products when I entered the company. However, now I can handle the whole process, such as design, tailoring, sewing, printing and negotiating with important clients."
Wang remembered that she drew the first logo and sewed the first tent for Toread herself after she had engaged in extreme challenges such as climbing several high-altitude mountains.
Her experiences provided invaluable potential and wealth for her growth, she said.
Furthermore, Wang is an environmentalist who has always promoted social welfare. She first engaged in rescue and disaster relief during the Wenchuan earthquake, which happened in southwest China's Sichuan Province in 2008.
In addition, she has paid much attention to protecting the Tibetan antelope and promoting other projects such as the SEE (Society of Entrepreneurs and Ecology) Foundation and Zero-Waste Climbing.
Wang also talked with many female entrepreneurs about the business opportunities of the country's growing levels of consumption.
"We not only sell products, but also aim at providing more relevant outdoors sports information and experiences," Wang said.
"We are planning to launch a Life Center to help people experience outdoor sports, because many people long to hike, travel outdoors, and climb mountains," she added.
So, customers can set the products according to the pictures, which can provide them an opportunity to enjoy outdoors activities.
Wang believes that outdoors sports are healthy and happy, and it is Toread's mission to promote healthy lifestyles.
(Source: China Daily/Translated and edited by Women of China)