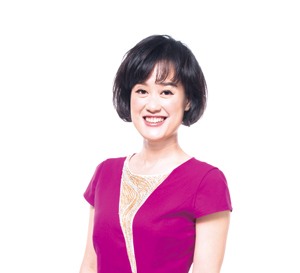 Lin Dan [Fnews.cc]
An avid bookworm and entrepreneur in Beijing is committed herself to promoting parent-child reading nationwide in the past few years and has achieved many positive results.
Lin Dan is the founder and CEO of Yourbay Parent-child Library, and also a celebrated book-reading promoter in the capital.
With the mission of promoting parent-child reading among every family, Lin has established around 1,000 parent-child libraries in over 240 cities in nine years, providing professional guidance and services.
As a native of a village in Guangdong Province, south China, Lin successfully found herself a job in the well-known software company Tsinghua Tongfang Co. in Beijing and achieved a position in the executive management within eight years.
Then, in order to take care of her daughter, Lin decided to start her own business of parent-child reading.
As founder of the first professional institution in China to promote parent-child reading, she had no precedent to learn experience from but had to feel her way forward. In the initial period, she advocated a fairly simple concept of parent-child reading to parents, that is, it was to help parents to better support and educate their children in the future, rather than adding to their burden.
Lin sought for individualization and catering to the special needs of individual parents.
She told the reporters that, there are already various types of standardized book lists on the market, which are in great demand and can easily be operated if follow suit, therefore many people tried to convince her to do just the same.
However, Lin insisted that every child is special in his or her own way, thus they need their own reading format instead of a standardized one-size-fits-all arrangement for the mainstream. After all, it is the parents rather than the teachers who know their child the best.
In order to improve the accessibility of the libraries, Lin and her team have pioneered a unique operating model that provides individual reading sites with small areas in places where children and parents gather.
This way, each library can serve hundreds of families and help children develop the habit of reading at an early age.
This simple operational mode and concept quickly gained recognition from a group of moms. After nine years of development, the company has completed the construction of major support systems, including R&D, training, operation and brand. Yourbay has developed into the first major brand to promote domestic parent-child reading.
According to Lin, the libraries also provide reading support for family users through a membership system, achieving regular, sustainable, influential and wide-ranging reading promotion, and intensively and concretely promoting more families to participate.
Now Yourbay has its own R&D training system and abundant expert resources, and has become the only professional reading promotion organization in the industry with independent research and development, training system and reading promoter certification.
In order to cultivate more professional parent-child reading promoters in China, Lin also established the Yourbay Reading Academy and the Reading Growth Club in 2014, and launched a series of online and offline training courses, benefiting tens of millions of people.
The same year, Yourbay established a group of mom reading teachers and organized tens of thousands of lectures for families, which widely disseminated the concept of parent-child reading throughout the country.
With a deep awareness of its social responsibility, Yourbay actively participates in the construction of public cultural activites, and the operation and innovation of public libraries. Now Yourbay has also the first social reading organization participating in the construction of regional culture, as well as the first non-governmental reading institution that officially participates in the operation of public libraries.
At present, Yourbay has worked with many official departments in Beijing, such as the cultural committees in Chaoyang and Dongcheng districts, providing story sharing, picture book parent-child reading theme activities, parent salon lectures, and other relevant activities, with an aim to truly increase the participation of people in the surrounding communities.
Lin's action has lighted up the dreams of numerous people, including many stay-at-home mothers, who have entrepreneurial aspirations and are full of passion for business. Through the establishment of embedded libraries in children's educational institutions, a group of mom reading promoters are now playing an increasingly important role in promoting reading under the leadership of Lin.
Lin also stated that Yourbay will share their comprehensive reading solutions with reading promotion agencies across China, and promote more enthusiastic readers to actively participate in the construction of public cultural services, so that the libraries can be established as cultural exchange places for ordinary people.
Apart from business, Lin often shares with parents her parenting insights gained through personal experiences. She has fostered a more harmonious relationship with her daughter through conducting parent-child reading for her daughter on daily basis, which also facilitates the developing of her daughter's language and logical thinking ability, as well as increases her creativity and imagination.
(Source: Fnews.cc/ Translated and edited by Women of China)