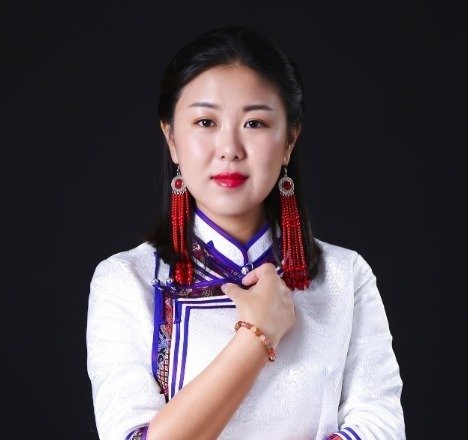 Guo Qi, founder of Inner Mongolia Qi Sheng Trading [China Daily]
College-educated, well-traveled and with a white-collar job in a global corporation, Guo Qi was the epitome of a cosmopolitan Chinese millennial until she returned to the vast prairies of north China's Inner Mongolia Autonomous Region two years ago.
She made the move after quitting her quality assurance job at South Korean manufacturer LG Electronics to apply for a place in a master's degree program in the United Kingdom.
She returned to Yakeshi in Hulunbuir, her hometown in the northeast of Inner Mongolia, in early 2016, intent on focusing on her application.
"I stumbled across an e-commerce panel discussion in the city center, where online retail experts shared how to launch digital businesses in rural areas," the 26-year-old said. "The talk got me thinking about my homeland."
Inner Mongolia, with its vast, lush grassland, produced about 1 million metric tons of lamb in 2016, more than a fifth of China's total production, according to the National Bureau of Statistics.
But Guo said the tasty lamb from Hulunbuir was not famous enough.
"People usually associate Inner Mongolian lamb with that from Xilin Gol League," she said. "They are not aware that lamb products from Hulunbuir are equally delicious."
Guo learned online that Xilin Gol League breeds more than 20 million sheep a year, while neighboring Hulunbuir, with an even larger area, produced just 10 percent of that figure.
The alarming gap in volume prompted her to spend several weeks visiting herders, making use of the business intelligence she had absorbed during her time at LG.
"The meat quality is absolutely great, as the cold weather tightens the texture and there's plenty of alkaline vegetation to feed them well," she said. "But batches of raw lamb are sold to large catering corporations outside Inner Mongolia at cheap prices, leading to a narrow profit margin for local herders."
She concluded that the key to promoting her hometown lamb is to rebrand products from the initial stage of production and reprocessing to increase the added value.
Guo quickly struck up a deal with a few local partners, and together they aimed to tap into the existing market for ready-to-eat, roasted lamb with a tea aroma.
"It's a traditional delicacy from my mom's cookbook," she said. "I had to implore her to give me the recipe. In Chinese cooking, we rarely follow the exact amount of ingredients and seasonings."
Because of her work in quality control, Guo knew mass production is different from casual home cooking.
"We need an accurate recipe to ensure consistency in flavor. What impressed me about my previous on-site visits to South Korean and Japanese factories were their standard procedures and strict monitoring of quality," she said, adding that her team also researched target markets in east China's Shanghai and Jiangsu .
After months of researching, brainstorming and negotiations, Inner Mongolia Qi Sheng Trading was set up in Hulunbuir in July 2016.
Self-disciplined as Guo is, she had anxious moments when she worried about lagging behind fellow entrepreneurs in metropolises like Beijing and Shanghai, impeding her confidence and motivation. She said the spirit of entrepreneurship is still a novelty in pastoral Yakeshi.
"Honestly, Inner Mongolia is still a relatively barren land for startups," she said, adding that one needs to be extremely self-driven to keep up with a fast-evolving market when living in such a serene place.
"It's natural to feel gloomy or upset during my work due to a sense of disconnection from my peers in bigger cities," Guo said. "I tell myself repeatedly that my priority is to step forward bit by bit, no matter how small one step is."
When asked if she might regret postponing, if not abandoning, her original plan to study abroad, Guo said she was proud to be part of a small group of young people who are contributing to Inner Mongolia's development.
"Only a small number of college-educated young adults born in Hulunbuir are willing to come back here," she said. "Even fewer will wade into the livestock industry after seeing the glamorous side of big cities. There is no right or wrong choice. I hope more Inner Mongolia natives will divert their attention to our hometown.
"I chose the road less traveled, and I feel lucky and grateful to have walked into that panel discussion room and met those e-commerce experts. And that has made all the difference."
(Source: China Daily)