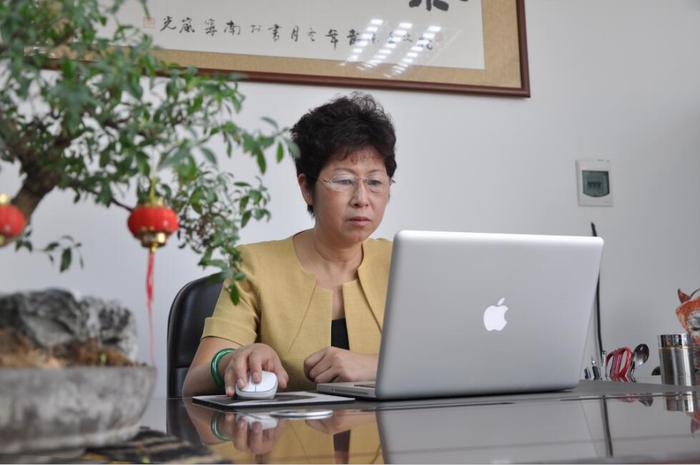 Song Yankun [Jbc888.com]
A woman in south China's Guangxi Zhuang Autonomous Region has achieved unexpected wealth after a dozen years in the research and development of aquatic products and aims to have more success in the world's biomedical circles.
Song Yankun was born in the 60s in Liaoyang, northeast China's Liaoning Province. She studied chemistry during her years of study of medicinal leeches in Guangxi.
"Medicinal leeches are rich in hirudin, which is the strongest natural antithrombin known in the world to date. It is a special natural medicine for preventing and treating human cardiovascular and cerebrovascular diseases, and also has broad application prospects in medicine and beauty, skin care and health products and biochemical reagents," Song said.
In 1997, Song's mother was diagnosed with cirrhosis, but soon recovered after eating leeches as a traditional Chinese medicine treatment. Since then, Song has been looking further into leeches.
She had learned about the efficacy and research and development history of leeches, and noticed that, in China and even in the world, there had been few companies that can achieve large-scale breeding of high-quality leeches. There was almost no industrial company that could extract high-purity hirudin for sale.
In 1998, she set up a special breeding farm in Pingguo County in Baise City to conduct leech breeding. In order to cultivate high quality leeches, Song searched with her partners in various remote mountainous areas of Guangxi. Meanwhile, they also visited scientists from across the country to study the leech and learn about farming techniques.
After 11 years of operation, Song mastered the mature breeding technology and possessed a number of excellent leech seedlings. She also gradually formed a team of experts for the extraction of hirudin.
In 2011, Song registered the Jingxuehuang Biological Engineering Co. in Nanning, the capital city of Guanxi. The company's natural dried hirudin powder has been exported to countries such as Canada, Russia, Vietnam, Malaysia and other countries.
In 2012, the company passed its audit and officially entered the Nanning Science and Technology Enterprise Cultivation Base. It obtained its high-tech enterprise certification in 2015; became one of the 8th batch of Guangxi innovative enterprises in the following year; and was listed by Nanning city as a government-led direct investment company in 2017.
Meanwhile, the Leech Industrialization Project was included in the Biomedical Sector Key Support Projects of the 13th Five-Year Plan of the city and the region of Guangxi. In 2018, the company moved to Nanning Zhongguancun Demonstration Base and its project was included in the Guangxi Dengling Cultivation Program of the national high-tech enterprise.
At present, Song has developed her company into a high-tech enterprise integrating leech breeding, rainworm breeding, hirudin extraction, rainworm protein extraction, research and development, production and sales.
It has become a high-tech enterprise equipped with all the technical and production support and facilities for the development of the complete industrial chain, which produced a series of medicines, anti-coagulant drugs, health care products and beauty cosmetics by utilizing natural hirudin.
In addition, their technologies of high-density breeding, large-scale extraction and biological preservation of the company have ranked top in the country.
During her 20 years of engagement in the industry, Song spent 11 years on research and development, experiencing countless failures before succeeding, and the company has started making a profit after 18 years of operation.
"With the strong support of various policies and the favorable environment created by the government, as well as the great concern and vigorous promotion of the Party committee and the government of both the region and the capital city, I believe that we would surely achieve astonishing results in the world's biomedical circles," said Song proudly.
(Source: Cnwomen.cn/ Translated and edited by Women of China)